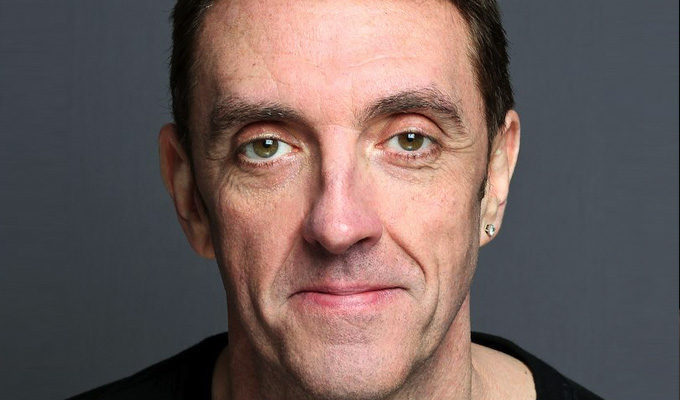 Cancelled... for a show about forgiveness
Comedian Chris McGlade has complained that he has been cancelled after his show was 'banned' from the Soho Theatre.
The Teesside stand-up – who describes himself as an 'anti-PC, pro-free speech, working-class comedian' – had successfully performed Forgiveness at the prestigious London venue last year.
But although it won plaudits both there and at the Edinburgh Fringe, plans for a return run have been cancelled over fears about the language used.
The show is partially about the comedian forgiving the man who murdered his father – but also serves as a working-class rallying cry against what's seen woke censorship by 'brainwashed progressive liberals'.
It includes a defence of racial slurs, depending on the intent of how they are used, and a poem called the Right To Hate, that has been accused of spreading antisemitic tropes.
Soho Theatre admitted they had been in talks with McGlade and his agents, but decided not to proceed because of concern over the content.
In an emotional video on Facebook, McGlade said:'I've been, in effect, censored and banned from the Soho Theatre in London, which I can't for the life of me understand.
'When my show was there last year, I got four standing ovations: there were progressive middle-class people working-class people, black people, white people at the show. It was called "genius", "a work of art" and it crossed divides.'
'So successful was the run that they wanted to go back and give it an extended run in the main room, to co-produce the show and – I think – to co-produce a tour. They wanted to record the show and put it out on for pay per view.
'But now they've told my agent that, after several months of to-ing and fro-ing, that no, they can't have me back there because they're worried that people might get offended by the content of the show.
'It uses uncompromising language [but] it's all used in context. It didn't cause any outrage or uproar when it was critically acclaimed across the board in Edinburgh, or when it went into the Soho [last February] theatre, but it is now.'
McGlade told Chortle that before its previous Soho run the venue expressed concerns about the racial slurs he used in the show to demonstrate his dad's sense of humour in using them without hatred.
He agreed to rewrite that section, which he did mocking the irony of material being censored in a show railing against censorship.
Otherwise, the most contentious element of the show is probably the poem The Right To Hate, a working-class repost to the politically correct demands liberal left. Last year, Bolton West Tory MP Chris Green had to apologise after promoting the poem on social media because of its references to the Rothschilds and the 'New World Order'.
Green said afterwards: 'Antisemitism comes in many forms, some more obvious than others… I should have been more careful about what and who I was tweeting. I offer a full and unreserved apology & have deleted the tweet.'
Several weeks ago, McGlade was told the venue had received a complaint about the passage, which he says was driven only by his concerns over the billionaire banking family's power to change the world markets.
He said he was prepared to discuss changes to the material, but none of the planned meetings materialised. And last week the venue told him they had decided not to go ahead with the new run, leaving McGlade devastated.
The comic concedes the theatre has the right to book whoever they like, and say he understands the decision, even as he contests it.
He says: 'My agent thinks the events of last weekend with the racism row [surrounding the Euro 2020 final] have played a massive part in causing my show - which spread so much light and tolerance – to be pulled. I'm just gobsmacked, absolutely gobsmacked.'
McGlade, 56, also insisted there was no hate in the show. He said: 'The show is all about tolerance and forgiveness and light and love, there's no hate in it all… but because it doesn't use the right PC language, it has been banned. This is what we're living with now. This is cancel culture right here. Has it made me angry? No, it's made me disappointed.
'If I don't have any hate in my heart for the man who killed my dad… who strangled my dad and set him on fire. If I don't hate the man who did that father, why would I hate anybody else for being a different race or religion or creed?'
He insists his intent was 'to show the mentality between the progressive middle-class mindset and the working-class culture and how we see things differently'.
Former working men's club McGlade, from Redcar, said that he feared the Soho's decision would mean that other theatres would also follow suit, leaving him nowhere to tour it – and that their decision amounts to silencing working-class voices.
'They talk about being diverse, but will only have you saying what they want to say,' he said.
But he hopes the show will be picked up by other venues, and is considering crowdfunding a major show.
'If the show can speak up for working-class people I can shuffle off this mortal coil and say I've achieved something with my life,' he said. 'There are things that need to be changed.
'My hope is that Forgiveness can play in a theatre to full house to all races and religions, working-class people and middle-class and people who have suffered from murders or suicides and we cab all have a good laugh at each other. I'm genuinely getting goosebumps just saying that to you.
He was defended by The Scotsman's comedy critic Kate Copstick – who last weekend made a Radio 4 documentary about censorship in comedy.
She called McGlade's show a 'genuinely helpful, celebrated piece of autobiographical comedy/theatre that speaks to people across the many many divides in what we now laughingly call our society'
And she said the Soho Theatre's decision was 'unforgivable' and 'incomprehensibly stupid', telling them via Facebook: ' You need to be better than this. It is shocking to the core that you are not.'
Chortle gave the 'heartfelt and often intense' Forgiveness a four-star review at the 2019 Edinburgh Fringe, did we express concern over 'the sort of language no longer considered acceptable'. The Telegraph also gave it a four-star review, calling it 'a masterclass in confessional comedy' but shared our conerns
Soho Theatre told Chortle: 'Chris performed his show at Soho Theatre in February 2020. After careful consideration and much private consultation with him, his agents, promoters and wider communities on language around racial slurs and anti-Semitism, we decided against putting the show on again.'
Published: 19 Jul 2021
What do you think?