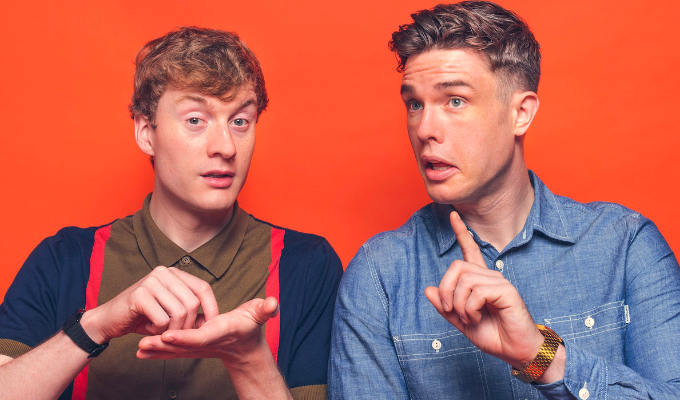 Off Menu goes live
Ed Gamble and James Acaster's Off Menu podcast is to make its live debut at London's Royal Festival Hall.
The comedians will be playing the 2,700-capacity venue next month, building on the success of the show that regularly tops the charts and boasts 55 million downloads since its 2018 launch.
Acaster joked: 'I can't wait to finally meet Ed and The Great Benito in person. It's gonna be a night to remember.'
Their gig was revealed as part of the Southbank Centre's new programme, which also includes tour dates for The Horne Section and Jenny Eclair, plus The Guilty Feminist: Live with Deborah Frances-White.
And it follows the previous announcement that Nish Kumar would be curating a weekend of programming at the landmark venue, celebrating how comedy has adapted through the pandemic.
The Mash Report host will be introducing three outdoor free gigs over the weekend of July 23 to 25; with the Saturday show focussing on comedians of colour, and the Sunday show promising 'a message of care and support for young people'.
He said: 'I'm excited – I've always seen myself as a curator, by which I mean I enjoy inflicting my taste on people regardless of their interests.
'We've got some very exciting plans. You'd better believe it. Amongst other things, I'm in negotiations with the guy that owns the Tupac hologram.
'Im hoping that my programme will cut a broad swathe through the arts and also have a healthy dose of comedy which as we all know is not "art". I think the most important thing is to celebrate us being able to be together again.'
Tickets go on general sale at 10am on Friday
Newly announced Southbank Centre comedy gigs:
Friday July 23: Nish Kumar's Lockdown Laughs, 5.30pm, free
Saturday July 24: Nish Kumar's Comedy Skits & Bits, 2pm, free
Sunday July 25: Nish Kumar's State of Emergency, 1pm, free
Friday July 30: Off Menu with Ed Gamble and James Acaster - Live, 8pm, £18 to £24
Friday September 10: The Guilty Feminist: Live with Deborah Frances-White, £27.50
Saturday September 11: The Guilty Feminist: Live with Deborah Frances-White, £27.50
Friday November 26: The Horne Section: That's How I Like My Tour, 7.30pm, £25
Friday February 11, 2022 Jenny Eclair: Sixty (FFS!), 7.30pm, £22
Published: 23 Jun 2021
What do you think?