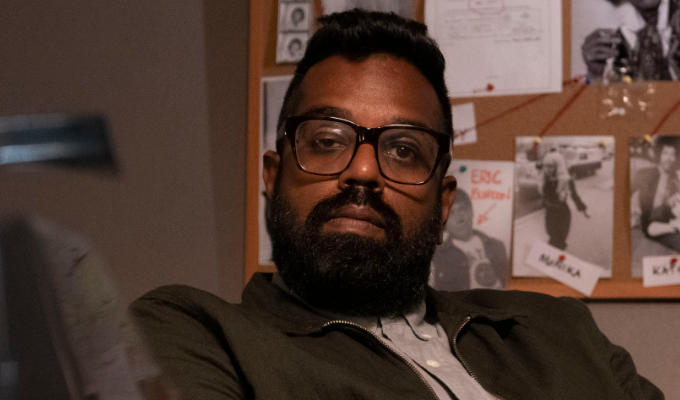 Romesh Ranganathan turns detective
Romesh Ranganathan is to investigate celebrity deaths in a new three-part series for BBC Two.
Jimi Hendrix and Tupac Shakur are among the subjects of the three-part true-crime series The Misinvestigations Of Romesh Ranganathan, set to air later this year.
Each episode will feature an assistant, such as a criminal psychologist or private detective, to probe the deaths – while he will also the achievements and the legacies of the stars concerned.
The series is being made by Rumpus Media, which preciously made his travel series The Misadventures of Romesh Ranganathan.
The comic said: 'We wanted a spin off for Misadventures and after we discussed Misinterpretations, Miscalculations and Misunderstandings we finally settled on Misinvestigations. It's been really interesting to look into these high-profile deaths and I am very excited for people to see the show, unless of course people don't like it in which case I will release a statement explaining how I never really believed in the project.'
Morgan Roberts, head of factual entertainment at Rumpus added: 'Romesh has proved to be a brilliant guide as he's taken us around the world on his Misadventures. In this new series he is training his curiosity, wit and sub-optimal investigation skills on extraordinary moments in pop culture as he looks at the life and untimely deaths of some of its greatest icons; exploring not only what happened to them but also why they remain so debated to this day.'
The news follows yesterday's announcement that Ranganathan was to host a hip-hop series for Radio 2 in August.
• BBC One has commissioned a further two eight-part series of Interior Design Masters with Alan Carr, with former editor-in-chief of Elle Decoration magazine, Michelle Ogundehin as head judge. Carr said: 'I am so excited we're coming back! Last year I found out what "ombre" meant, along with understanding "the flow" of a room, so who knows what interiors tips I'll pick up from the next batch of designers!.'
Published: 23 Jun 2021
What do you think?