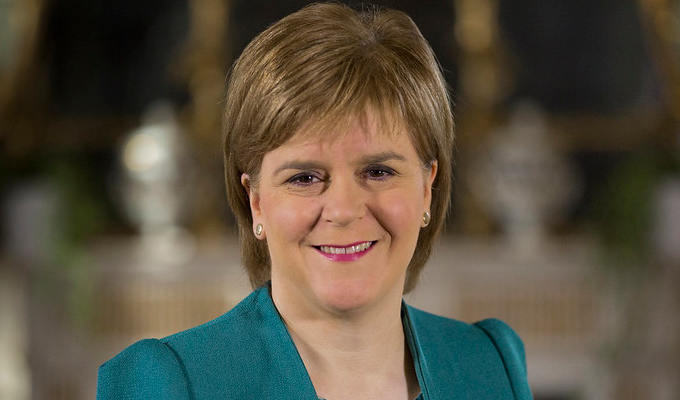 Scotland's lockdown extended
Nicola Sturgeon has announced an extension of Scotland's lockdown measures, in a short-term blow to venues north of the border.
But there is hope the delayed roadmap will provide more certainty to the planning of this year's Edinburgh Fringe.
The First Minister has told Holyrood that the relaxation of measures originally planned for Monday will be delayed until at least July 19 - the same day as Boris Johnson hopes to lift all restrictions in England.
But she said the pause, to allow more vaccinations 'will give us the best chance, later in July, of getting back on track and restoring the much greater normality that we all crave'.
And she set out a timetable to 'more substantially' lift restrictions - including the ending of social distancing - on August 9, after which 'life should feel much less restricted for all of us'.
Edinburgh and Glasgow in currently in Level 2, with most of the rest of Scotland in Level 1.
The rules in the largest cities insist on two metre social distancing, which is entirely impractical for all but the largest venues. For example, the 160-capacity Edinburgh Stand comedy club can only hold 12 people with the two-metre rule
Misleadingly even a relaxation to 'level zero' on July 19, will not mean zero restrictions. Venues will still have to adhere to one-metre social distancing, stick to table service and require customers to wear masks when moving about.
But if these are scrapped on August 9, just three days after the launch of the Fringe, live events will be allowed back as normal, although months of uncertainty and a lack of international tourists will mean the festival will inevitably be a shadown of its normal self.
Ms Sturgeon told Holyrood: 'Our assessment – on balance and assuming we meet the necessary conditions on vaccination and harm reduction – is that it would be possible and proportionate to lift the major remaining legal restrictions on August 9.
'We will consider and make a final assessment nearer the time of whether – as we hope – this could include the lifting of the legal requirement to physically distance indoors as well as outdoors.'
Shona McCarthy, chief executive of the Edinburgh Festival Fringe Society, told The Scotsman: 'It's hugely uplifting to see that the Scottish Government has listened to the collective voice of the culture sector and has gone ahead in making the social distancing guidelines fairer for all.
'Today's decision means that operators can now plan, prepare and start the difficult road to recovery.
'Our priority now will be in supporting Fringe producers and artists to deliver the best festival that we can in the time we have left, and to ensure our covid mitigation plan is rolled out effectively and safely.'
At the weekend it was reported that the Scottish Government and the city council have joined forces to offer £1.3 million worth of support to leading venue operators to help offset the impact of restrictions, including Gilded Balloon, Assembly, Pleasance, Underbelly and The Stand.
William Burdett-Coutts, founder of the Assembly venues, said: 'What this funding will mean is that a small amount will definitely be able to happen at the Fringe this year. But the two-metre rule is still a major headache.'
So far only the Edinburgh Corn Exchange, a large space away from the usual festival hubs, has announced any solo shows during the Fringe, with promoters Live Nation scheduling gigs featuring the likes of Jason Byrne, Daniel Sloss and Henning Wehn.
But earlier today, the Gilded Balloon confirmed that the final of its So You Think You're Funny? competition will take place live at the end of August.
Meanwhile, in Westminster, Downing Street has been accused of sitting on findings of its research into the safety of outdoor events for fear it would contract its lockdown message, the i reports.
Ministers had been due to publish the results of its events research programme on June 14, but they have still not been made public - leading to accusations that they have been hushed up so the Prime Minister could delay lockdown easing without having to acknowledge results which found outdoor events were safe.
Published: 22 Jun 2021
What do you think?