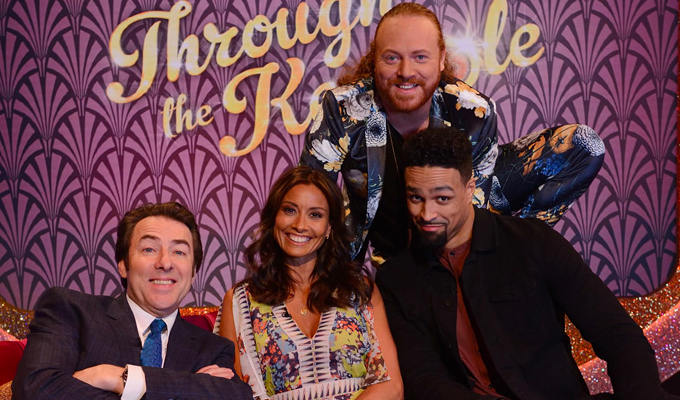 Why is sexist Keith Lemon still on TV?
Melanie Sykes has demanded to know why Keith Lemon is still on TV for the way he belittles women.
Her comments came as she revealed that Leigh Francis reduced her to tears by humiliating her in front of an audience in the guise of his alter-ego.
Sykes said she was subjected to three hours of offensive comments while recording an episode of ITV's Through The Keyhole in 2018.
She explained that she reported his behaviour to production firm Talkback, who agreed to let her have a say in the final edit of the show – but that did not ease the ordeal which left her crying all night.
Sykes said that she thought that because the show airs in prime-time, it wouldn't be so sexually explicit as his ITV2 show, Celebrity Juice – which she previously appeared on in 2014.
Speaking to veteran publicist Lynne Franks on her Frankly Speaking podcast, 50-year-old Sykes explained: 'I didn't think Keith was going to be like he was on the other show that he does where it's all sex and blow jobs and talking about people's assholes and all that sort of stuff
'I sat there for a three-hour record and he did all of that stuff to me verbally to entertain the live audience — because it was never going to make the edit of the actual show, because Through The Keyhole was a family, Saturday night show, so he used me to entertain the audience.
'The first thing that Keith said to me, in character, "I bet your arsehole smells of flowers". It makes me want to cry right now because I was so caught in the headlights and wasn't expecting it.
'It just went from bad to worse, I kept thinking "What am I going to do? I can't get up and storm out because it will be all over the newspapers that I've walked out and it will of course be my fault. Everybody in the audience has a mobile phone so they could see'.
'So for three hours I struggled through that. Then I got home and I cried all night. I rang my agent in the morning and told him about my experience.'
Sykes explained how she rang the Talkback to complain that the recording had been a 'terrible experience' and said the company boss she spoke to replied: 'You're the first person that's ever, ever complained about him'
'I said, "I don't care",' she told Franks. 'And this was before MeToo... about three weeks before the MeToo movement kickstarted.'
She added that she told the producer: 'You and I know that there are loads of women who don't say anything - it doesn't mean it's not happening.'
And she said to was difficult for women to speak out 'because when you say it you lose your job. If you are working with men and it's not going very well and you're not particularly happy about it, you can't complain to somebody in the channel because it will get out in the media and the programme will be pulled and therefore you will not be able to feed your children.'
Sykes added: 'I don't understand why someone like Keith Lemon gets the airtime that gives voice to men in the street, men in the office, men in your home, to talk to women like shit and think it's funny.'
Neither Leigh nor Talkback have yet commented on the Sykes' comments, but it is not the first time she has clashed with the comedian and his alter-ego.
She first complained about Lemon last summer when – in her own magazine Frank – she said: 'I feel a bit sorry for British men who have adopted the limited vocabulary of the television character Keith Lemon when talking about and to women,' she said. 'I would be surprised, and indeed it would be a miracle, if any of these men are actually getting laid.'
At the time, Lemon hit back by boasting about the awards he had won.
Taking to Instagram Live he told fans: 'Well if anyone's watching and you have a limited vocabulary, you can still win two Baftas and two NTAs. I don't want to boast about all the things I've won.'
He claimed to be baffled by Sykes's comments and said: 'I reached out to her and ask why she didn't like me. She said, "It's not you, it's your on-screen persona".'
Celebrity Juice has just completed its 25th season.
Published: 20 Jun 2021
What do you think?