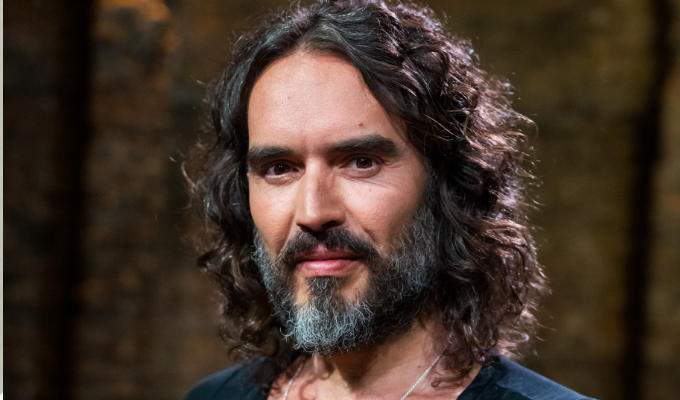 My Bardy-Wardy
Russell Brand is to film a one-man theatre show about Shakespeare.
Our Little Lives: Shakespeare & Me, is about how the language of the Bard can be applied to modern life and Brand's own experiences, using famous soliloquies to reflect on universal issues and the comedian's past.
The show was developed by director Ian Rickson, and was performed at the Bristol Old Vic and Royal and Derngate, Northampton, in 2018, earning a three-star review from the Guardian.
A season in the West End was planned, but kiboshed by lockdown – although producers still hope to bring it to the London stage once restrictions are eased.
Now the comedian is to record a version of the 'moving and hilarious' show in front of a socially distanced audience at London's Almeida Theatre – and streamed via the LiveNow platform.
Brand explains: 'Collaborating with Ian Rickson (and Shakespeare) we (me, Ian, Shakespeare) have created a show that explores, meaning, ritual, theatre, shamanism, the power and ownership of language and the potential for culture to bring about real change. Plus there is a dog in it (my dog).'
Rickson added: 'We embrace the fact that this is a show about Russell's life, shown through the dynamic code of Shakespeare, and that it's also very much concerned with language. Who does it belong to? Who has access to it? Who has a voice and who doesn't?
'Also, how you "spell" with it and what it does to consciousness. It has as its spine Russell's own story, using potent moments from his life to illuminate and contextualise the choices of text.'
It will be broadcast in Australia, US and UK on the 14 July from 7.30pm (local time), and everyone who buys a ticket will have 24 hours to catch-up.
The title comes from The Tempest, as Prospero muses: 'We are such stuff. As dreams are made on; and our little life. Is rounded with a sleep.'
Brand played Trinculo in a 2010 movie version of that play, with Helen Mirren in the lead role and a cast that also included Tom Conti, Felicity Jones and Alan Cumming.
Here's a video from the rehearsal rooms:
Tickets for Our Little Lives: Shakespeare & Me are available now, priced from £13 for 'early birds' today and tomorrow to £28 for a VIP ticket including a post-show Q&A and behind-the-scenes footage.
Published: 16 Jun 2021
What do you think?