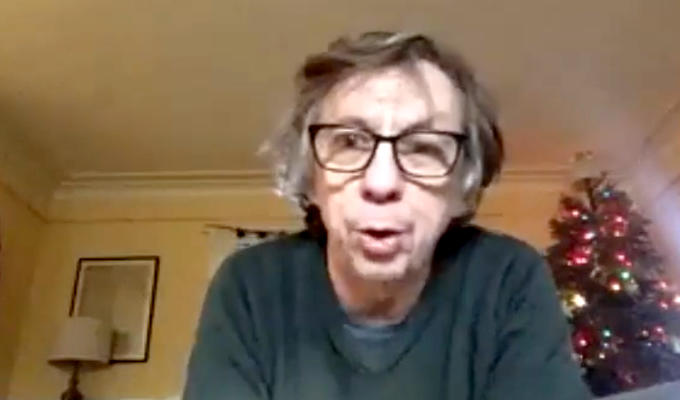 New podcast from Borat writer Peter Baynham
The week's best comedy on demand.
Now
BRAIN CIGAR: This new podcast comes from top comedy writer Peter Baynham - whose credits include Borat, I'm Alan Partridge and The Day Today – and Never Mind the Buzzcocks writer Jeremy Simmonds. Beginning at Episode 7, after the first six shows were allegedly lost in a tragic server crash, it is based on world events, TV shows, movies, music, books and products that the pair remember very clearly, even if you don't, such as David Bowie's early 1990s range of microwaveable meals or Jack Nicholson appearing as a live guest on Noel Edmonds' Multi-Coloured Swap Shop and calling a viewer's Action Man 'a little bitch'. Brain Cigar, which also features Julia Davis, launched this week. Listen on Spotify and elsewhere.
Tonight
MUSICAL COMEDY AWARDS: The final of this year's competition will be live-streamed from the Bloomsbury Theatre tonight, with Stepdads, Chris Rio, Amy Webber, Shelf, Bennet Kavanagh, 2MouthedMen, Canadians In Space, Alexander MacKeith, Jamie Finn and Tom Taylor vying for the title, plus a headline set from 'Jazz Emu' Archie Henderson. It starts at 7.30pm. and tickets, priced £11, are available here
Thursday June 17
LAUGH LESSONS: A series of 20 sketches from up-and-coming comics from across the UK comes to BBC iPlayer today. Acts involved include Jack Carroll,Raul Kohli, Northern Power Blouse, Sian Docksey, Jamie d'Souza and Hannah Platt. Made by production companies Channel X North, Little Wander, North East Comedy Hot House, and Peggy Pictures, the boxset will be live from 6am today.
DARK HORSE LIVE: Jen Brister, Rich Wilson and honey psychic (aren't they all?) Clinton Baptiste perform this gig, livestreamed from the Forum, Tunbridge Wells. Tickets, priced £4.99, are available here.
---
• As Zoom gigs are now increasingly rare, this will be the last appearance of this column. Streaming releases will be included in our TV and radio round-up each Sunday, while the best physical gigs that are also streamed will be included in the week's best live comedy round-ups, also published each Sunday.
---
Published: 12 Jun 2021
What do you think?