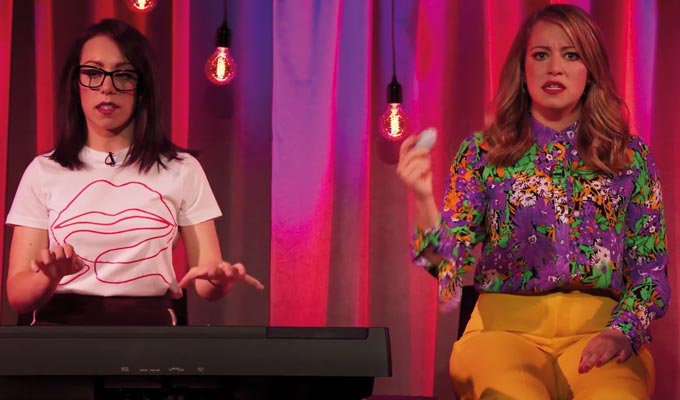 Flo & Joan add songs to drag show Death Drop
Musical comedy duo Flo & Joan have written five new songs for West End drag show Death Drop.
Sisters Nicola and Rosie Dempsey penned the tracks Tonight's The Night, Til The Next One Drops, Dramatic Act 2 Song, Oopsy Whoopsy and Gimme The Gun for the murder-mystery spoof.
The so-called 'Dragatha Christie' show originally opened in December but was forced to close within days because of the third lockdown.
It reopens at the Garrick Theatre tonight, and during the enforced hiatus the show has been rejigged, including the addition of Flo & Joan's new songs.
In a statement the sisters – who have also written tracks for Horrible Histories as well as their own act – said: 'We feel very lucky and excited to have been invited to work amongst the drag monarchy of Death Drop. We hereby take no responsibility for what happens on the stage of the Garrick Theatre during the show.'
Dragatha Christie stars Myra Dubois alongside its writer Holly Stars plus RuPaul's Drag Race contestants Willam and Latrice Royale.
The December incarnation received mixed reviews. The Guardian gave it three stars noting 'is baggy, it overruns, and it doesn't know how to end…. but for West End audiences, it's rollicking good fun'; the Times gave two stars and said 'this garish romp is too thin to surrender to'.
But The Stage gave four stars and called it 'a a hugely entertaining digression', while Attitude magazine awarded the same rating and said: 'It's over the top and hammy – of course – and the audience loves it.'
Published: 19 May 2021
Recent News
What do you think?