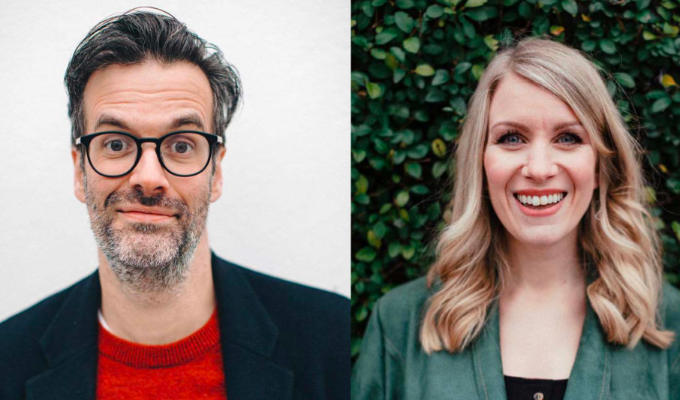 It's EuroDoubleVision
The week's best comedy on demand. For more streaming gigs use the 'find live comedy' search box with 'online' as the region.
Tonight
EDDIE IZZARD: WUNDERBAR: The comic mulls life, love, history and proposes an unconventional 'theory of the universe' in this stand-up show, being streamed at 8pm tonight and tomorrow, and featuring an introduction from Eddie herself. Tickets are available here
ALTERNATIVE EUROVISION SONG CONTEST: Marcus Brigstocke and Rachel Parris will be commentating on this online spectacular put on by master improvisers The Showstoppers. Other guests include Whose Line Is It Anyway? star Mike McShane and Les Dennis, Russell Kane, London Hughes and cabaret star Le Gateau Chocolat as judges. Featuring new songs parodying all the Eurovision genres, expert commentary and interactive voting, the show is in aid of The Care Workers' Charity. Livestreaming from 8pm, with tickets available on the Showstoppers website
Sunday May 16
DAD'S ARMY: The amiable but entirely unnecessary 2016 big-screen remake of the classic comedy arrives on Netflix. Bill Nighy, Catherine Zeta-Jones, Toby Jones and Blake Harrison are among the stars.
Monday May 17
THE NEXTUP LIVE COMEDY RELAUNCH PARTY: Live comedy is back today, albeit in a socially distanced way. To mark the long-awaited occasion, streaming service NextUp is staging a relaunch party at the Pleasance in Islington. It's sold out, but being streamed live to subscribers here. The line-up comprises Dane Baptiste, Maisie Adam, Nigel Ng, Kae Kurd, Priya Hall and MC Thanyia Moore
BEAT THE FROG: Also back in person in the regular new act challenge from Manchester's Frog and Bucket comedy club… and in what might be the 'new normal'- if we can use that dreaded phrase - the gig will be livestreamed too. Grab a virtual ticket for £3 from the venue's website
MARK SMITH VS THE PEOPLE : Three episodes of this new chat/sketch show hybrid, hosted by Mark Smith and featuring Lolly Adefope, James Acaster, Phil Wang and and Rhys James, among any others are being released by producers Turtle Canyon Comedy weekly from today.
Mark Smith versus The Peoplehttps://t.co/iRPCb30V3J
coming soon pic.twitter.com/e2RfhTRt88

— Turtle Canyon Comedy (@TurtleCanyonCom) May 14, 2021
Tuesday May 18
MICHAEL SPICER'S IT HAPPENED TO ME: A new podcast in which writer and producer Matt Tiller interviews ordinary people with extraordinary stories… but they're all made up and played by Room Next Door comedian Michael Spicer. Episode one lands today on Apple and other podcast platforms.
Thursday May 20
JAY AND SILENT BOB REBOOT: The 2019 film that even creator Kevin Smith describes as 'literally the same fuсking movie all over again' arrives on Netflix. Revisiting characters first seen in 2001, the comedy got OK reviews on its 2019 release with the Rotten Tomatoes aggregate site noting that it seeks to 'mock the same audience nostalgia it's mining'… and is reasonably successful in pulling that off.
Friday May 21
ALTERNATIVE EUROVISION: The second such spoof of the week, this one coming just a day before the real song contest. Among the 15 comedy acts taking part in this gig – organised by South London art-comedy collective Pinata and streaming service NextUp Comedy – are Sooz Kempner, Toussaint Douglass, Archie Henderson, Siblings, Shelf, Len Blanco and Helen Duff. It all kicks off at 8pm, and tickets are available from Eventbrite.
Published: 15 May 2021
What do you think?