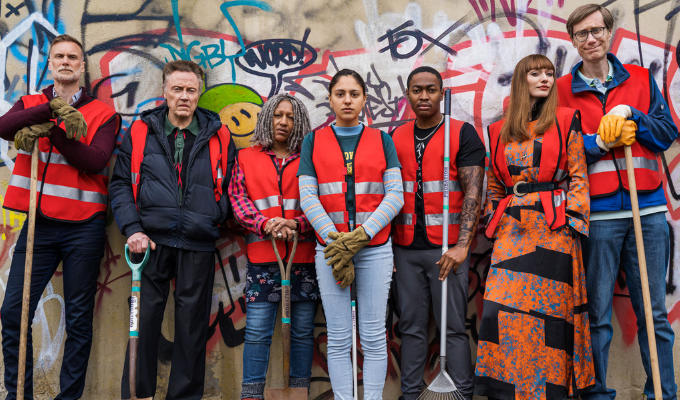 Julia Davis and Richard E. Grant join The Offenders
Julia Davis and Richard E. Grant have joined the cast of Stephen Merchant's upcoming comedy-drama The Offenders.
The news comes as the BBC releases the first image today from the show, which is currently being filmed in Bristol.
The picture features Christopher Walken in his first lead British TV role, alongside writer and director Merchant and the rest of the cast: Rhianne Barreto, Gamba Cole, Darren Boyd, Clare Perkins and Eleanor Tomlinson.
The Offenders - which is still a working title - follows seven strangers from different walks of life forced together to complete a community payback sentence in Bristol.
Grant, who appeared with Merchant in the superhero movie Logan plays The Earl, a member of the landed gentry and the father of Tomlinson's wayward character, Gabby. Davis plays Rita, head of human resources at the company where Merchant's character Greg works.
Describing the plot, the BBC says that as 'unlikely new friendships intersect with their complicated private lives, the Offenders must unite to protect one of their own from Bristol's most dangerous criminal gang. The show is part crime thriller, and part character study - with humour and heart.'
The series will premiere on BBC One in the UK and on Amazon Prime elsewhere, and is produced by Big Talk with Merchant's company, Four Eyes.
Published: 12 May 2021
What do you think?