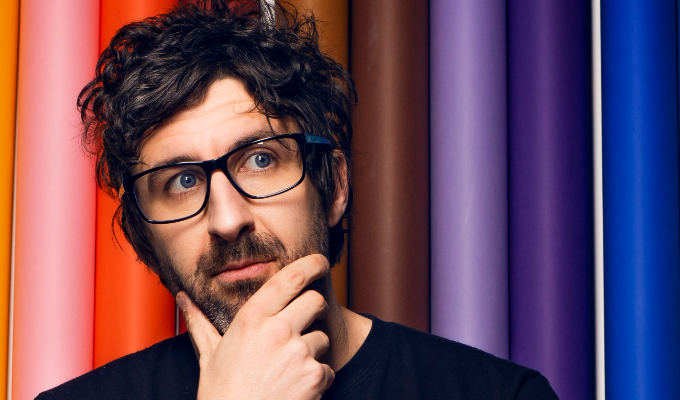 Mark Watson announces 70-date tour
Mark Watson has announced a major 70-date tour from September.
His This Can't Be It show, which will be on the road until July 2022, revolves around 'the frightening prospect of death' – a topic the comic says he has been stressing about since 'before it became fashionable'.
'The events of the past 12 and a bit months, to give them a politely evasive name, have made us all think more regularly about the fragility of life than we probably would have liked to,' says a statement from his production company, Impatient.
'Nothing focuses the mind than having a "daily death toll" with your late afternoon glass of wine, or a tired-looking government scientist showing graphs and using phrases like "we anticipate many, many more fatalities" in what used to be the Escape To The Country slot.'
The blurb adds: 'This show has been some time in the making, thanks to all that unpleasantness with the virus. He's rarely looked forward to anything in his life. All those 41 years of it to date.'
During lockdown, Watson created the game No More Jockeys with Tim Key and Alex Horne, which has had more than 2million YouTube views, published his latest novel, Contacts, pioneered the Drive And Dine series of outdoor comedy and completed a trilogy of 24-hour online shows, raising around £70,000 for charities.
For all this, he was one of the winners of Chortle's Legends Of Lockdown awards, recognising comics who had gone above and beyond to entertain in these extreme times.
Tickets have just gone on sale. Click here for all the tour dates and box office links for the Mark Watson: This Can't Be It tour.
Several other comics have confirmed rescheduled or expanded tours this week, as the end of lockdown restriction comes into sight. Check our Comedians On Tour page for the latest.
Published: 30 Apr 2021
What do you think?