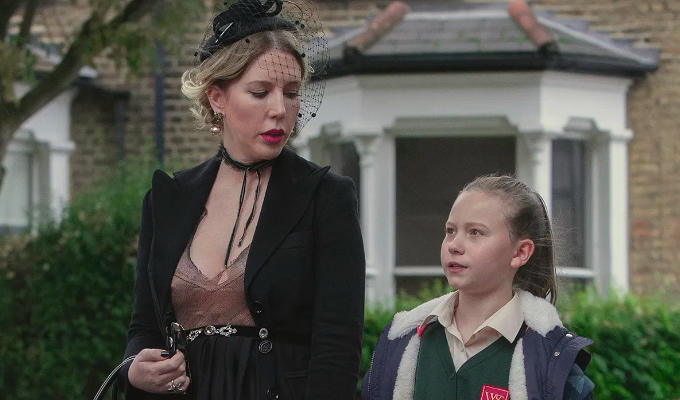 Netflix won't renew Katherine Ryan's The Duchess
Netflix won't be making a second series of The Duchess, Katherine Ryan has revealed.
The semi-autobiographical sitcom, which was released on the streaming service in September, co-starred Rory Keenan, Steen Raskopoulos and Michelle De Swarte.
But it received mixed reviews, scoring just 35 per cent on the Metacritic aggregation site, and apparently did not secure enough viewers to warrant a recommission.
Ryan, who also wrote the six-part series, broke the news on Vicky Pattison's The Secret To podcast.
The comic said: 'They didn't want to make any more. Not enough people watched it. I think something like 10 million people watched it in 28 days and that wasn't enough.'
But she added she wasn't 'terribly sad' about the decision, explaining: 'I feel like it's a whole lot of work for a whole lot of time, to make a sitcom. It's really collaborative, and I was so grateful to be able to make it, but I think it speaks for itself. I kind of like the way it ended.'
'I think it's fine for me if it sits on a platform almost like a film, so I'm really chill with things. I don't want to seem too happy about it; but I'm glad.'
Ryan also admitted that the show divided opinion, telling the reality star 'a lot of people are deeply offended by The Duchess'.
Ryan is currently hosting the BBC jewellery show All That Glitters and has been lined up to present forthcoming ITV2 dating show Ready To Mingle.
She is also currently writing her autobiography, The Audacity, which is due to be published in September.
Published: 29 Apr 2021
Recent News
What do you think?