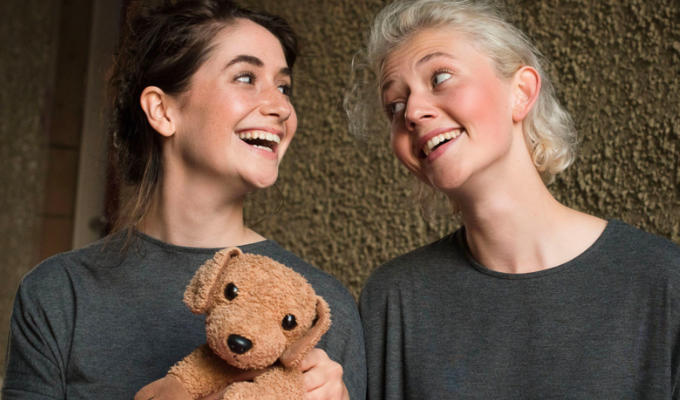 Women gain the majority in BBC Three comedies
The BBC has announced four new pilots in its Comedy Slices strand – all led by female talent.
With the imminent release of Rose Matefeo's romcom Starstruck, today's news means that most comedy programmes on BBC Three are now led by women.
The channel claims to be the first in the UK to achieve this landmark with women representing 58 per cent of the key talent involved in long form-scripted comedy writing.
The newly announced pilots, which all run for 22 minutes are:
Dinosaur: Written by Matilda Curtis and starring stand-up Ashley Storrie as Nina, as autistic woman who finds happiness in the world thanks to her passion for palaeontology and her friendship with her bubbly younger sister Evie. However, when Evie asks Nina to be her maid of honour, Nina decides to step out of her comfort zone with a challenge: to find herself a date to bring to the wedding.
Britney: Written by and starring Charly Clive and Ellen Robertson and based on their live show of the same name (pictured), Britney is the true story of an extraordinary friendship forged while living with a brain tumour - which was nicknamed Britney after the one and only icon).
Ladybaby: Created and written by Kirstie Swain, this comedy set in Edinburgh is about about a thirtysomething woman unexpectedly reunited with the daughter she gave up for adoption when she was fifteen.
Amicable: Created, written by and starring Jude Mack and Eliot Salt, based on their 2016 Edinburgh Fringe play Predrinks and Afterparty, about a couple of 'modern feminists and queer legends' facing life after a breakup.
Kate Daughton, who leaves her job as head of comedy at the BBC, today, said of it was 'a monumental achievement' for female talent to become dominant on the channel.
She said: 'Building on the huge success of Phoebe Waller-Bridge and Daisy May Cooper, this is testament to the fact the most pioneering and exciting new voices in comedy are increasingly female.'
Shane Allen, director of BBC Comedy, added: 'Five years ago there were still articles asking where all the funny women were. That hoary old nonsense can finally be dispensed with once and for all. It's a level playing field with the most vibrant and dynamic work coming through from female writers and writer-performers who are elevating the art form of comedy and expanding its horizons.
He also paid tribute to Daughton, whose projects in her five years with the BBC have included Fleabag, Mum, Ghosts and the Gavin & Stacey Christmas special, saying: 'No longer will she curse at me for loud sneezing in the office. Partly because she's leaving and mostly because we've not been in the office. Truly bereft; in denial that she's off and we're lucky to have had her for so long.'
Charlotte Moore the BBC's chief content officer, added: 'Kate's impeccable taste, whip smart comedy brain and beguiling ways with talent have had a transformative impact on the comedy output in her time here.
'The fact that BBC Three can claim to be the first UK channel with a majority of female led and written scripted comedy is in large part down to her vision and passion for backing genre defining female creatives. She'll be sorely missed but thankfully leaves behind a terrific legacy of shows ahead.'
More BBC Three Comedy Slices will be announced soon, alongside broadcast details for Ladybaby, Amicable, Dinosaur and Britney:
Comedy Slices production credits
Dinosaur
Made by: Two Brothers
Executive Producers:Harry Williams and Jack Williams.
Commissioning Editor: Tanya Qureshi
Britney
Made by: Drama Republic
Executive producers: Roanna Benn, Jen Kenwood and Mike Bartlett
Commissioning Editor: Tanya Qureshi
Ladybaby
Made by: Kudos
Executive producers: Kirstie Swain and Phil Temple
Commissioning editor: Ben Caudell
Amicable
Made by: Avalon
Executive producer: Rob Aslett
Commissioning editor: Gregor Sharp
All were commissioned by Shane Allen and BBC Three controller Fiona Campbell. Kate Daughton was the original commissioning editor on all except Ladybaby.
Published: 16 Apr 2021
What do you think?