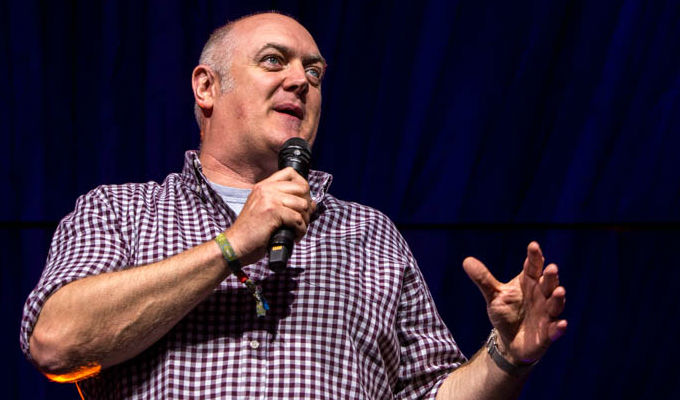 Mammoth outdoor comedy festival unveiled
Dara O'Brian, Sean Lock and Al Murray are to headline a three-day open-air comedy festival, with punters camping on site.
The Cambridge Comedy Festival, which will actually be staged in a field 20 miles from the city, is one of the most ambitious events of its type to feature only comedy.
Nina Conti, Milton Jones, Mark Watson, Seann Walsh and Rosie Jones are also among the more than 150 acts appearing from July 9 to 11.
Comedy will run across four stages on Friday night, and Saturday and Sunday from lunchtime until late at night. As well as stand-up, there will be kids' sessions, podcast recordings, and even he very first live version of Radio 4's topical soundscape show The Skewer.
The event is being put together by promoter Andy ​White of the city's Jesterlarf comedy club, who has run a smaller comedy festival of Edinburgh previews and stand-up shows for 15 years.
He told Chortle: 'Clearly I must be utterly bonkers and foolish to put on such an ambitious event during the world's worst pandemic for 100 years but sod it - it's the event I always wanted the festival to morph into when I launched it back in 2006.'
It is being staged at Grange Farm in Huntingdon, which previously hosted the Secret Garden Party festival, and will boast 500 'generously spaced' camping pitches - as well as some glamping options.
White said: 'It is amazing and really quirky, We've even got a fresh water swimming lake - and in the true spirit of being silly I've created the Lake Stage where acts will perform and people can either watch from the bank side - or swim up on the stage side!
'Ive got a main stage with giant screen, a natural bowl amphitheatre stage, the Glade stage in the woods and a children's stage. Iv'e got big names plus all the very best circuit acts and more obscure fringe acts, children's shows and more. It's all very exciting!''
Day tickets are priced from £32.10 to £38.52 for adults, and weekend camping tickets at £136.50 - all available from See Tickets.
More information is available from the Cambridge Comedy Festival website
• Meanwhile, Cambridge's Varsity rival of Oxford has also announced a comedy festival, featuring 14 outdoor shows across a week in the courtyard of the city's 11th Century castle. Angela Barnes, Mark Watson, Rosie Jones and Marcus Brigstocke are among the names confirmed for the event, which runs from May 31 to June 6. More information is available from organisers Jericho Comedy.
Published: 9 Apr 2021
What do you think?