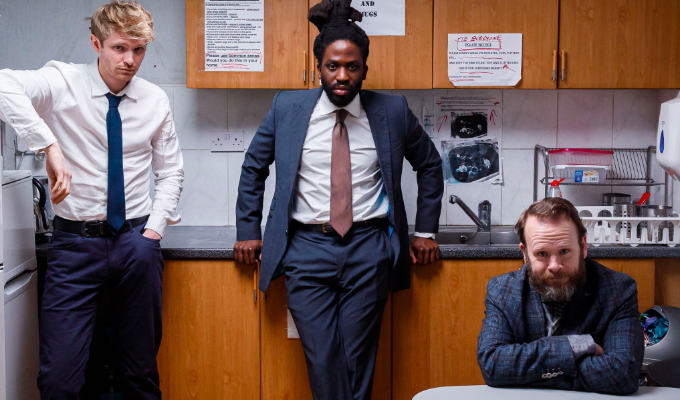 BBC confirms Dreaming Whilst Black pilot
BBC Three has announced a new comedy pilot, Dreaming Whilst Black, from up-and-coming film-maker Adjani Salmon.
The half-hour Comedy Slice is based on the semi-autobiographical web series of the same name released three years ago.
Dipping in and out of reality it follows aspiring filmmaker Kwabena, played by Salmon, as he tries to get his script commissioned despite his family's disappointment and complicated personal life.
He said: 'After such a phenomenal response to the web series, where we found an audience who really connected to Kwabena's journey, I'm happy we've made our show for TV. I'm excited to share this story with our earliest and new audiences alike.'
The cast for the show – which will drop on BBC Three's iPlayer channel on Monday April 19 – includes Will Hislop, Alexander Owen, Toby Williams and Tom Stourton, all familiar from the live comedy circuit.
They appear alongside Dani Moseley, who starred in the original web series, Babirye Bukilwa, Rachel Adedeji, Demmy Ladipo, Meghan Treadway and Tom Byrne - latterly seen as Prince Andrew in The Crown
As well as starring, Salmon co-wrote the show with another aspiring film-maker, Ali Hughes.
BBC commissioning editor Sarah Asante said: 'The story and experiences behind Dreaming Whilst Black should resonate with young audiences with aspirations to enter arts and media spaces.
'The semi-fictional depiction of the journey towards recognition and finally making it is so on point, most viewers will relate to the rollercoaster adventures of our leading man.'
Executive producer Dhanny Joshi from Big Deal Films added: 'Dreaming Whilst Black is a once in a lifetime show that you get to make as a producer. It will have you laughing, put you to tears, give you hope and hit you in the face with the reality check you didn't see coming.
'Adjani's performance as Kwabena is utterly mesmerising. The underdog has just been re-defined and we come to realise that as we dream, we all have a little Kwabena in us. We are proud to be part of Adjani's journey.'
Salmon created the original web series with Max Evans, Laura de Sousa Seixas and Natasha Jatania. It won a Funny Women award in 2019.
Here is the trailer for the web version:
Dreaming Whilst Black production credits
Made by: Big Deal Films
Commissioned by: Shane Allen, director of BBC comedy and Fiona Campbell, controller BBC Three
Producer: Gina Lyons
Director: Sebastian Thiel
Executive producers: Adjani Salmon, Thomas Stogdon and Dhanny Joshi
Commissioning editor for the BBC: Sarah Asante
Casting director: Heather Basten
Published: 7 Apr 2021
What do you think?