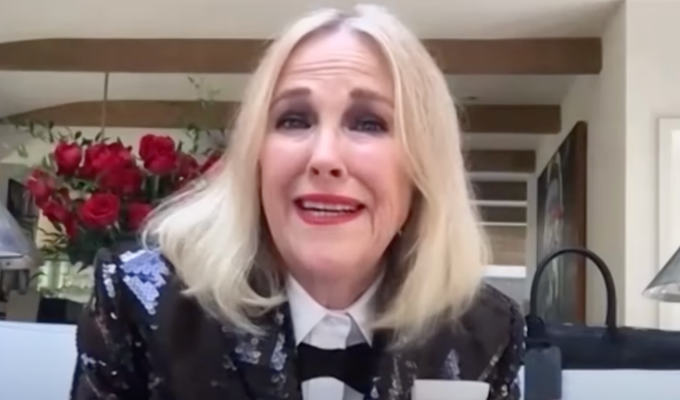 Schitt's Creek wins two Screen Actors Guild awards
Schitt's Creek scooped two awards at the Screen Actors Guild last night.
The Canadian comedy won the best ensemble category, with Catherine O'Hara taking best comedy actress.
In her acceptance speech, she praised tribute to her on-screen daughter Annie Murphy, who had also been nominated.
'I share this with Annie Murphy,' she said. 'I'm flattered anyone might believe I could be her mother. Annie is a beautiful soul.
'And of course, for Eugene and Daniel Levy and their amazing writers. Their hilariously empathic storytelling gave me and everyone in the town from which I am currently estranged every possible chance to love, be loved, make happy fools of ourselves and blossom into the best we could be.'
And here Dan accepts the show's ensemble award:
The Levys had both also been nominated for best comedy actor, but lost out to Jason Sudeikis for his title role in Apple TV+'s British-made series Ted Lasso.
He wore a Gucci jumper wearing the feminist slogan 'my body, my choice' to collect his award in the virtual ceremony.
Accepting his award, the 45-year-old said: 'Thank you to all of my fellow actors, male and female. That means a lot to me — it really, really does. It's very, very flattering, very humbling.'
Schitt's Creek has now come to an end, following the release of its sixth season last year
Published: 5 Apr 2021
What do you think?