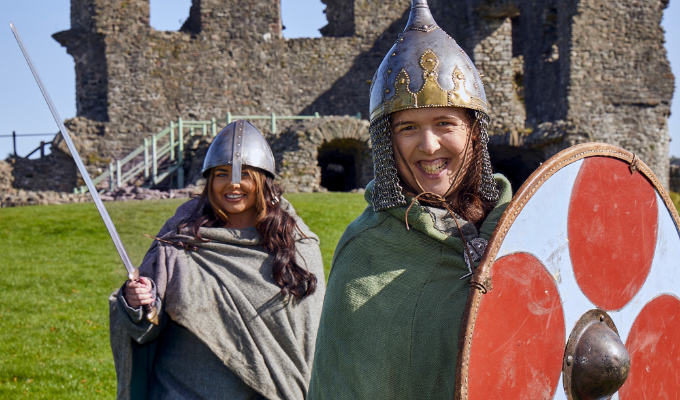 Rosie Jones's travel show comes to Channel 4
The week's best comedy on TV and radio…
Sunday April 4
IAITH AR DAITH: In this show - whose title translates as Welsh Road Trip - Kiri Pritchard-McLean learns Welsh with the help of Maggi Noggi, a farmer on her native Anglesey. 'I am at my happiest and most relaxed when I'm in Wales,' the comedian says. 'I moved back to Wales because it was always the plan, really. I should have said that out loud to my boyfriend when we first got together! When I wanted to start a family, this was the first and only place on the list, really.' And now she wants to polish up her language she never mastered. 'I want to find my confidence in Welsh,' she said. 'I'm very confident [But] I don't feel funny in Welsh – my dream would be to do stand-up in Welsh.' Which is exactly what she gets to do in this programme, which shows her performing on stage in Llangefni. S4C, 8pm
STIFF UPPER LIPS: Starring Sean Pertwee, Samuel West, Prunella Scales, Peter Ustinov and Brian Glover in his final film role, this 1998 comedy film is broad parody of British period films such as Chariots of Fire and A Passage to India as well as a satirise on Edwardian attitudes to propriety and class. Talking Pictures TV, 10pm
Monday April 5
WELLINGTON PARANORMAL: Co-created by Taika Waititi and Flight Of The Conchords star Jermaine Clement, Wellington Paranormal is a spin-off from their 2014 vampire mockumentary What We Do in the Shadows. Here, cameras follow incurious police officers Karen O'Leary and Mike Minogue as they keep the streets of New Zealand's capital safe from the unexplainable. In the first episode, Minogue and O'Leary bring in what appears to be a projectile-vomiting drunk teenager – but things seem a bit off when she starts climbing the walls like a spider and claiming to be Bazu'aal of the Unholy Realm. And after this episode airs, all three series are available on catch-up. Sky Comedy. 9pm
GAVIN & STACEY: A marathon screening of all three series of Gavin & Stacey in one sitting. Gold, 7.20am. Yes, 'am'
Wednesday April 7
ATHENA'S CANCEL CULTURE: In this new four-part sketch and stand-up series, Athena Kugblenu explores the world of offence in modern times… then examines her own social media output from a decade ago to see if it would pass today's standards. Also featuring James McNicholas. Radio 4, 11pm
Thursday April 8:
MEET THE RICHARDSONS: The show offering a fictionalised look at Jon Richardson and Lucy Beaumont's married life returns for a second series. We join them as they start to think about moving out of Hebden Bridge; Jon is over the moon to finally be creating his Jake Thackray documentary alongside Sally Phillips while Lucy has a new job hosting a radio show with Rob Beckett. Lucy's sitcom with Johnny Vegas also starts filming, while Jon tries to sell his house to another celebrity, showing Craig Charles, Kevin McCloud and Alex Brooker round the house, and most importantly his home pub, The Dog & Bastard. Dave, 10pm.
A LEAGUE OF THEIR OWN: LOCH NESS TO LONDON: Jamie Redknapp, Freddie Flintoff and Romesh Ranganathan start another of their road trips, with Jack Whitehall joining them for the first leg, starting at Urqhart Castle at Loch Ness and involving an SAS Highlands Survival challenge. Sky One, 9pm
TASKMASTER: In tonight's episode, Charlotte Ritchie climbs a ladder with some loo roll, Mike Wozniak tries out a new catchphrase, and Lee Mack terrifies an innocent member of the public. Channel 4, 9pm
Friday April 9
TRIP HAZARD: MY GREAT BRITISH ADVENTURE: In this new series, Rosie Jones takes celebrity friends on an adventure around Britain, gorging on culture, learning local traditions and witnessing the glorious scenery of the Lake District, Whitby, Anglesey and Norwich. In the 'heightened reality' of the series, Rosie has frequent run-ins with the Channel 4 commissioner (played by fellow comic Rachel Stubbings), who is too busy dealing with her celebrity contacts to give Rosie's show her full attention. And it's all narrated by Olivia Colman. In episode one Jones is joined by Scarlett Moffatt to explore the Lake District, visiting William Wordsworth's former home, and re-enacting a Viking battle at Kendal Castle. They also manage to survive a driving course on a 100-year-old traction engine. The whole series will be available to stream on All 4 after this episode has aired. Channel 4, 8.30pm
Published: 4 Apr 2021
Recent News
What do you think?