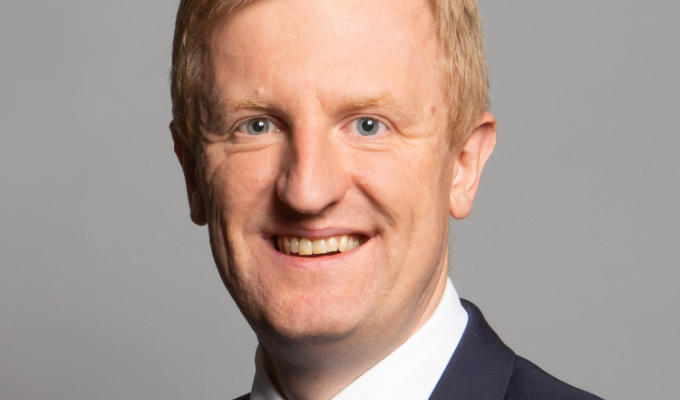 Comedy firms receive cash lifelines
Comedy clubs, theatres and producers have received a share of the government's latest £400million tranche of loans and grants to try to keep them afloat during lockdown.
Beneficiaries of the latest round of cash from the £1.57 billion Culture Recovery Fund include the Komedia, Stand and Glee venue, Angel Comedy Club in London and the team behind the Leicester Comedy Festival.
One of the biggest recipients in stand-up was the Top Secret Comedy Club in London, which received £516,500, while Manchester's Frog and Bucket Comedy Club - which hit the headlines after missing out on a previous round of funding - has received a £175,000 lifeline.
Brighton's Komedia received £123,500. Romesh Ranganathan, who cut his teeth at the venue, said of the award: 'I'm absolutely delighted Komedia has got this funding. It means that it can continue to be the hub for both established comedy as well as nurturing new talent. This is great news for the area.'
Comic Enterprises, the company that operates the Glee clubs in Birmingham, Cardiff, Glasgow, Nottingham, received £123,201; while Salt & Sauce Promotions, the company behind the Stand Comedy Clubs, got £35,500.
In London, Angel Comedy Club - who opened their Bill Murray venue in Islington after crowdfunding the costs - receives £63,000 while the Soho Theatre got £249,018 and Up The Creek received £177,250. The management company and tour promoters linked to the Greenwich venue received a further £77,500 in total.
Big Difference Company, the charity behind the Leicester festival, received £50,000; the Bath Comedy Festival got £35,000, the Southport Comedy Festival £25,550 and the Brighton Fringe received £143,891.
Bound & Gagged, the London promoter whose touring acts include Omid Djalili, Tim Vine, Stephen K Amos and Lucy Porter received £350,000, while Funny Women got £40,000.
Founder Lynne Parker said: 'The work we do at Funny Women is a significant and vital part of today's cultural landscape. This funding makes the world of difference to my team and the hundreds of women in our community who have looked to us for guidance and inspiration during successive lockdowns.'
Other recipients include
• A Rush Of Laughter, the Liverpool-based comedy agency: £33,109
• Andrew Roach Talent agency, London : £39,419
• Berk's Nest comedy promoters, London: £82,891
• Big Kiss Ltd, the company that operators Covent Garden Comedy Club: £85,000
• The Comedy Station, Blackpool club: £35,000
• Canal Cafe Theatre, home of London's Newsrevue: £67,408
• Corrie McGuire Management, a London-based agent: £33,190
• Fight In the Dog live comedy producers: £28,722
• Gag Reflex, Manchester based comedy agency and promoters: £30,574
• Get Comedy, London comedy agents and promoters specialising in festivals: £30,000
• Goes Wrong Ltd/Goes Wrong Tours, which yesterday announced three UK tours from this summer: A total of more than £740,000
• Hoopla Impro, London based venue producers: £83,109
• Impatient Productions, live promoters headed by comic Mark Watson: £28,017
• Individual Artist Management, London-based agency whose clients include Sofie Hagen and Jamali Maddix: £32,812
• Laughterhouse On The Road, Liverpool-based promoters; ££47,226
• Richard Bucknall Management, London-based agent: £45,846
• Show & Tell Productions, London-based live promoters: £76,233
Among the theatre recipients, Battersea Arts Centre received £314,000, the Blackpool Grand received £491,000 and Brighton Dome £470,500 and Bush Hall in London £223,896 - and that's just in the Bs.
Nimax Theatres, the company co-owned by Edinburgh Comedy Awards supremo Nica Burns, was awarded £898,784 to ready their West End venues for socially distanced reopening.
Theatre producers Seabright Productions, which stages tours including Adam Kay's This Is Going To Hurt live shows and the family comedy show Potted Potter by Dan and Jeff has received a £95,000.
Founder James Seabright said: 'We are delighted to receive this much-needed grant as we reopen shows and welcome audiences back to live entertainment. Integral to our plans for the funding is to prioritise the engagement of freelancers, as that essential part of the theatre community has too often been left behind in other pandemic support initiatives.'
The latest round of awards has been announced by Culture Secretary Oliver Dowden, pictired. He said: 'Our record breaking Culture Recovery Fund has already helped thousands of culture and heritage organisations across the country survive the biggest crisis they've ever faced.
'Now we're staying by their side as they prepare to welcome the public back through their doors - helping our cultural gems plan for reopening and thrive in the better times ahead.'
The awards were handed out by Arts Council England so do not cover operations in other nations of the UK.
Published: 2 Apr 2021
Recent News
What do you think?