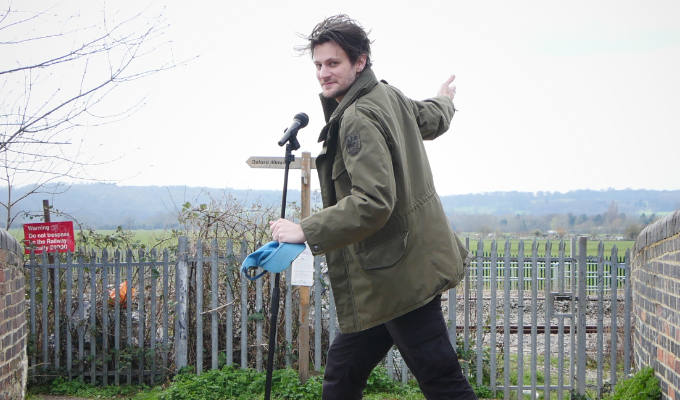 Is this the year's first live stand-up gig?
A stand-up is claiming the first live, in-person comedy show of 2021 – long before venues are allowed to reopen.
Alex Farrow, the regular MC at the Jericho Comedy Club in Oxford, is hosting a show on Monday, the day strictest 'stay-at-home' measures are lifted.
His one-man show will be presented as an outdoor walking tour with an audience of five, to comply with the reintroduced 'rule of six' for outdoor meetings.
But the subject of his show might prove contentious given the source of all this Covid palaver: bats.
Farrow says the mammals need better PR to improve their reputation, and adds: 'It seems fitting that the first show of 2021 should coincide with bats coming out of hibernation as the nocturnal comedians of the UK also exit their lockdown hibernation.
The walk take place across Oxford's Port Meadow at dusk, when the bats start coming out, but Farrow says 'eating them is strictly not allowed'.
A family of five has booked the first 'Bat Chat comedy safari', and Farrow adds: 'Is five people really an audience? Well supposedly five is close to the average for an Edinburgh show attendance, so perhaps standing in fields is the new Edinburgh Fringe'
After the first show Jericho Comedy is planning a series of outdoor stand-up gigs around Oxford. Last summer they ran shows in fields, pub gardens, as drive-ins and even a couple of floating shows with the audience and performers on punts.
From Monday, outdoor gatherings of either six people or two households will be allowed in England, including in private gardens. Venues are set to be allowed to open outdoor spaces from April 12, while it is hoped that indoor entertainment venues will be allowed to open from May 17 according to the government's roadmap.
In Scotland, the 'stay at home' edict will be relaxed to 'stay local' on April 2, while Wales is expected to make the same change this Saturday. It currently has a 'rule of four' for outdoor meeting. Northern Ireland moves to a rule of six on April 1.
To book a space on a Bat Chat walk, email events@jerichocomedy.com.
Published: 25 Mar 2021
What do you think?