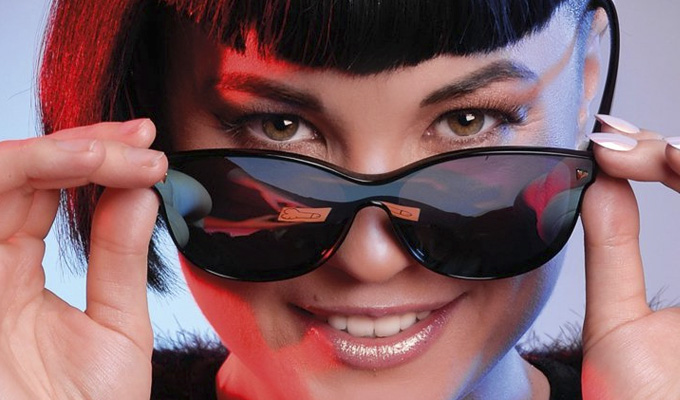 Children's book deal for Bec Hill
Stand-up Bec Hill has signed a deal to write three children's books, with her first title out in September.
Horror Heights is a comedy series for readers aged eight and over, all set in a neighbourhood where kids experience creepy goings-on.
In the first book, The Slime, 11-year-old Connie adds a few extra ingredients to a slime recipe… turning it into a terrifying, sentient monster who threatens to eat her friends and family.
In the second – whose publication date is yet to be announced - a youngster called Ryan is sucked through a screen into his favourite influencer's channel, with no way out.
Publishers at Hodder Children's Books liken Horror Heights to R. L. Stine's hit Goosebumps series, which has run to 235 books and spin-off titles since its launch in1992.
Indeed, Hill says: 'Growing up on Goosebumps, I'd always been fascinated by scary stories and the fact that every place I visit seems to have one.
'I've been dying to write about the events at Horror Heights because they're just so unsettling, and I'm equally as excited for others to read about them. There were quite a few, so watch out R. L. Stine!
'There's a reason you can't spell Bec Hill without 'chill'."
Polly Lyall Grant, commissioning editor at Hachette Children's Group, acquired the world rights, including those for any film and TV spin-offs, from Claire Nightingale, Hill's agent at PBJ Management
She said: 'I have been looking for "the new Goosebumps", and Bec has struck gold with her unique combination of horror and humour.
'Each book is a digestible bite, yet filled to the brim with truly satisfying scares.'
The books are billed as 'an accessible, low word-count comedy-horror ' and feature artwork by Berat Pekmezci.
As well as her work for adult audiences, Australian-born Hill has several live kids' shows under her belt and is a series regular on CBBC's The Dog Ate My Homework. She has written for numerous live-action and animated TV shows aimed at young viewers, including a new CITV arts and crafts series, which she will also host, called Makeaway Takeaway.
Horror Heights: The Slime is published on September 30 by Hodder Children's Books, priced £6.99 in paperback and ebook. Order from Waterstones or Amazon.
Published: 5 Mar 2021
Recent News
What do you think?