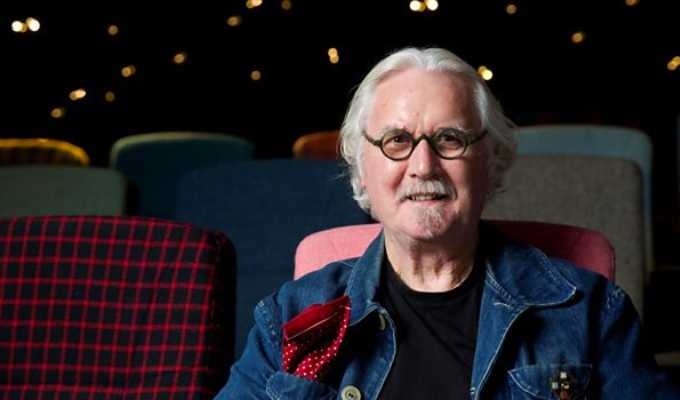 Billy Connolly's first autobiography out in October
Billy Connolly's autobiography is to be released in October and entitled Windswept And Interesting.
The comedian has revealed that he was writing the book from his Florida Keys home during December's ITV documentary It's Been A Pleasure.
But now publisher Two Roads have revealed the title, and it will be published on October 14 in hardback, audiobook, and eBook.
They say the book is 'joyfully funny - stuffed full of hard-earned wisdom as well as countless digressions on fishing, farting and the joys of dancing naked. It is an unforgettable, life-affirming story of a true comedy legend'.
Connolly said: 'It's the first time I've done this. Other people have written about me – or for me – but this time it's just my own life in my own words.
'I didn't know I was windswept and interesting until somebody told me. I had long hair and a beard and was swishing around in electric blue flairs. He said, "Look at you – all windswept and interesting!" I just said: "Exactly!"
'After that, I simply had to maintain my reputation.'
Nick Davies, managing director of John Murray Press described the autobiography as 'a wise, heartfelt, opinionated and hugely funny book... it has been one of the great pleasures of my career to work on it.'
Connolly's life story was previously told in two bestselling books by his wife Pamela Stephenson
In the ITV show, the comedian said he found it difficult to put his thoughts down, saying: 'I remember I sat down to write a novel once and never got past page two. Writers impress the hell out of me. Especially comedians who write as well. I don't know how they do that.'
Windswept And Interesting will tell of how he was born in a tenement flat in Glasgow in 1942, orphaned by the age of four, and subjected to appalling abuse at the hands of his family.
He became an apprentice welder in the shipyards of the River Clyde, then a folk musician, until the stories he spun between songs set him on the road to a new career in comedy, turbocharged by an appearance on Michael Parkinson's chat show in 1975.
Two Roads previously published a collection of Connolly's stand-up routines, Tall Tales and Wee Stories, which topped the Sunday Times bestseller list.
Windswept And Interesting can be ordered now from Waterstones, priced £25 in hardback.
Published: 24 Feb 2021
What do you think?