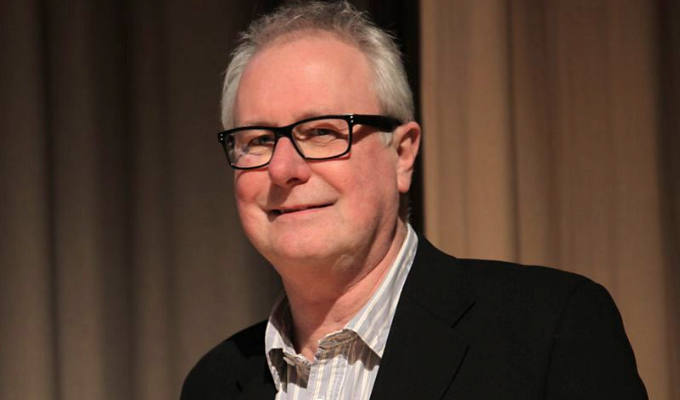 Iain Pattinson, the writer behind I'm Sorry I Haven't A Clue, dies at 68
Tributes have been paid to Iain Pattinson, the writer of I'm Sorry I Haven't A Clue, who died at the weekend at the age of 68 after a short illness.
His agent, Kate Haldane at PBJ Management, said: 'It is with heart-break and sadness that we announce the death of our client and friend, Iain Pattinson. We are enormously proud of him and his extraordinary and often undersung career, most notably as the writer of I'm Sorry I Haven't A Clue.
The show's host, Jack Dee, added: 'Iain's unique brilliance was his ability to combine the absurd with the plausible. His sense of silliness was without limits and I treasure the memory of having worked with such a comedy legend.
Pattinson started to write for the previous host, Humphrey Lyttelton, in the early 1990s, and he once commented: 'There can be no greater compliment to the performance of a script than for the audience to fail to notice there is one.'
He came to comedy writing late, after a career as an oil executive for most of the 1970s and 1980s, while hs other credits include Clive Anderson Talks Back and The Smith & Jones Sketchbook.
But his name will always be linked to Clue – a job that won him three Sony Gold Awards, a Broadcasting Press Guild Award, and more. Ans in 2009, he released a Lyttelton's Britain, featuring some of the introductions he wrote for the show.
And regulars on the show over the decades lined up to pay tribute
Barry Cryer: 'Humphrey Lyttelton and Jack Dee are rightly lauded for hosting I'm Sorry I Haven't A Clue. Someone who should be remembered and saluted is Iain Pattinson, who wrote their brilliant linking lines for the programme. His mastery of the witty line hitting target in just a few words was unsurpassed. A typical example. "In this enlightened age we don't do jokes about dyslexia. They're not clever and they're not furry. So get thee behind me Santa." Thank you Iain.'
Rob Brydon: 'Iain's work on ISIHAC was in a league of its own. He really was the sharpest, wittiest and most original of comedy writers with a seemingly endless supply of ideas and inspiration. One of a kind. I feel privileged to have known him and spent time with him. I'm terribly saddened by the news and send my deepest condolences to his family and loved ones.'
Rory Bremner: 'Iain's brilliant lines, whether delivered by Humphrey Lyttelton or Clive Anderson amongst others will have made millions of listeners laugh out loud. It's not just the jokes we'll miss, it's the spirit and company of a really funny man, and the best purveyor of blue-chip filth in the business.'
Sandi Toksvig: 'People who aren't in show business may think the fun is all on stage but I know it's in the wings. Whenever I did I'm Sorry I Haven't A Clue with Iain Pattinson present it was like a naughty comedy devil was willing us on. He would stand out of sight of the audience, drinking a bottle of beer and guffawing especially if one of his own jokes went well which they always did. If you had a line written by Iain to deliver then you could relax safe in the knowledge that laughter was on its way. He was a one off. A genial, genius gentleman who will be much missed.'
Richard Osman: 'Iain was an absolute master, one of the truly great joke-writers. If you've ever laughed at Clue, then you've laughed at Iain. What a sad loss of a wonderfully gifted, funny man. I know he would have a joke for this occasion and I'm sad we will never get to hear it.'
Harry Hill: 'Iain was one of the unsung heroes of BBC Radio Light Entertainment and was one of the first proper comedy writers I met when I arrived there, working on Weekending. His story of escaping his previous career in the oil business gave me hope that I too could change course. He was kind to me, taught me a lot, and of course had a brilliant one-off comic take on the world. I'll miss him and anyone who ever enjoyed an episode of Clue will miss him too.'
Marcus Brigstocke: 'Heaven knows how many brilliant jokes written by Iain I have delivered on Clue. He was so funny. Quick and joyful. As the performer it's us that gets the laugh and usually the credit – but the truth is without the extraordinary skill and talent of Iain and others like him we'd be in terrible trouble. Rest in peace and thank you for all the laughs.'
Victoria Coren Mitchell: I am desperately sorry to hear this terribly sad news about the brilliant Iain Pattinson, who I've admired for very many years. As many of our viewers will know, a huge amount of my remarks on Only Connect are intended as a tribute to my favourite radio show, I'm Sorry I Haven't A Clue, and Iain's joyful comic writing style, which have been a lifetime inspiration to me. He was also a really nice man.'
Sioned Wiliam, Radio 4's commissioning editor for comedy: 'Iain was a witty and original writer who made a massive contribution to Radio 4 comedy over the years. From Weekending in the late 1980s to his fabulously silly and outrageously funny contributions to I'm Sorry I Haven't a Clue, he will be greatly missed by all who knew him at Radio 4.'
Chris Neill, comedian and former BBC radio comedy producer: This is the most heart-breaking news. Iain was the most wondrous human being: a kind, funny and grumpy man. An excellent companion and superb writer. He was the perfect antidote to our age of pomposity, fraudulence and spivs. He was the best of the best
We are expecting a letter from a letter from a Mrs Trellis of North Wales any moment now.
Published: 15 Feb 2021
What do you think?