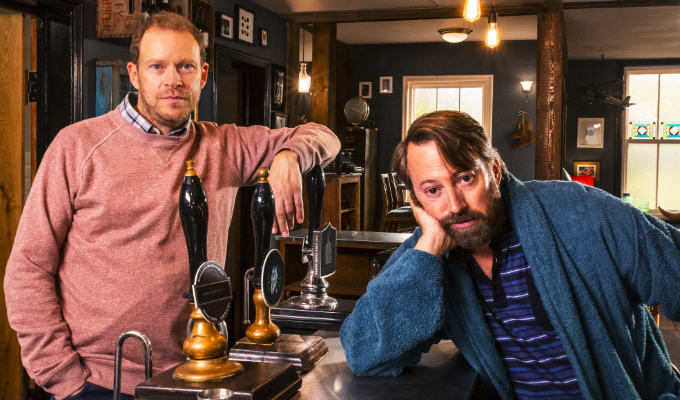 After three years, Back's back
The week's best comedy on TV and radio.
Sunday January 17
IMRAN YUSUF: RELABELLED: The comic takes a look at masculinity and role models in the latest of Radio 4's stand-up specials. Radio 4, 7.15pm
THE FRESH PRINCE OF BEL-AIR REUNION: Will Smith and his former co-stars reunite to remember the sitcom which made his name 30 years ago. Sky Comedy, 9pm
Monday January 18
BENJAMIN: The first TV screening for Simon Amstell's 2018 bittersweet romantic comic about a promising a young filmmaker living in fear of his second release bombing. Colin Morghan and Phénix Brossard play the leads, with Anna Chancellor and Joel Fry among the supporting cast. Read our review here. Film 4, 11.05pm
RICHARD OSMAN'S HOUSE OF GAMES: Comedians Maisie Adam and Rory Bremner take part this week alongside Olympian James Cracknell and singer Michelle Gayle. BBC Two, 6pm
A.P. BIO: Glenn Howerton returns for a third season of the US comedy, as slightly sociopathic philosophy teacher trapped teaching biology in the uninspiring and unglamorous wold of Tuledo, Ohio. Patton Oswalt co-stars. Sky Comedy, 9pm.
Tuesday January 19
RHOD GILBERT'S GROWING PAINS: Reliving their most embarrassing teenage stories tonight are Charlotte Church, Joel Dommett and Munya Chawawa Comedy Central, 9pm
FUNNY NATION WITH Elis James: Gilbert makes another appearance on this show, originally broadcast on BBC One in Wales but now getting a nationwide airing, in which James looks at his homeland's contribution to comedy. BBC Two, 10pm
Thursday January 21
BACK: More than three years on from the first series, the comedy starring David Mitchell and Robert Webb as brothers returns for a second. After a long absence, a rejuvenated Stephen (Mitchell) prepares to head back to the John Barleycorn pub, just as Andrew (Webb) is starting to feel restricted and weighed down by the mundanities of being a provincial landlord. Channel 4, 10pm
QI: Daliso Chaponda, Bill Bailey, Sally Philips and Alan Davies appear in the last in the current R series. BBC Two, 9pm
MOCK THE WEEK: Dara O Briain and Hugh Dennis are joined by Angela Barnes, Catherine Bohart, Ed Gamble, Rhys James and Michael Odewale. BBC Two, 9.30pm
Friday January 22
WOULD I LIE TO YOU?: Josh Widdecombe guests tonight alongside presenter Gemma Cariney, auctioneer Raj Bisram and Made In Chelsea's Sophie Hermann. BBC One, 9pm.
NOT GOING OUT: The late Bobby Ball takes a central role in tonight's episode of Lee Mack's long-running sitcom as his character, Frank, announces his engagement - much to Lee's chagrin. BBC One, 9.30pm.
Published: 17 Jan 2021
What do you think?