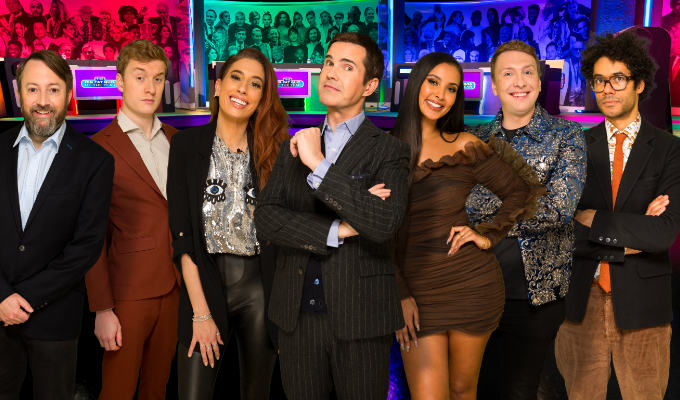 A Big Fat oversight
Channel 4 has been criticised for including no female comedians in its Big Fat Quiz Of The Year.
The line-up for this year's two-hour show, which will air on Boxing Day, includes four male comedians plus host Jimmy Carr. But women are represented by presenters Stacey Solomon and Maya Jama, not professional stand-ups.
The booking decision has prompted irritation online.
Among them were comic and Mash Report star Rachel Parris wjo tweeted: 'The practice of casting comedy shows with only male comedians plus other famous women who are not comedians is unbelievably infuriating. It's a comedy show,
'I've absolutely nothing against Stacey and Maya, I think they're great, and great at what they do, it's just a really specific issue here; pro male comics and not any pro female comics and it happens very often.
'The divide is really, really obvious; male comedians, female presenters. That's the point.'
Angela Barnes also joined in the criticism, commenting: 'Funny boys and pretty girls. Happens all the bloody time. Why are there no female comics on this comedy show?
'I also wonder whether any of the male comics on there at any point in the recording thought "hang on, something's a bit not quite balanced here"? Or did they just not notice because it is so ingrained?'
Felicity Ward added that it was 'infuriating', adding: 'How many times have Channel 4 talked about equality/inclusivity?' and citing some female comedians she thought would shine on the show: Parris, Suzi Ruffell, Fern Brady. Jen Brister.Desiree Birch. Jess Fostekew and Kiri Pritchard-McLean.
Brady suggested the first question could be: 'In what year will it be acceptable to book funny women instead of insanely beautiful women?'
And Gráinne Maguire tweeted: 'As a female comedian knowing that a reality TV star will always leap frog me to the top of my profession, is giving me a real insight into how Hillary Clinton felt.'
The broadcaster has booked comedians Roisin Conaty and Katherine Ryan to appear on the sister show, Big Fat Quiz Of Everything, which will air on January 7. Rob Beckett, Nish Kumar, Strictly dancer Oti Mabuse and Rob Brydon also join Carr on that programme.
A spokesman for the show said: 'From the very outset, both The Big Fat Quiz of the Year and The Big Fat Quiz of Everything have featured a brilliant line up of male and female talent'
The first Big Fat Quiz Of The Year, in 2004, featured two presenters – Liza Tarbuck and June Sarpong - alongside four men, as well as Carr. For the next three years there was only one woman alongside five men, until presenters Claudia Winkleman and Davina McCall appeared together in 2008. The following year there was one woman, Ruth Jones, and only in 2010 did the show book its first female stand-up, Miranda Hart.
There was then only one woman until 2014, since when there have been two female panellists to four male in every show.
The Big Fat Quiz Of Everything has also never featured a better gender ratio that 2:1 in favour of men until this year.
Published: 18 Dec 2020
What do you think?