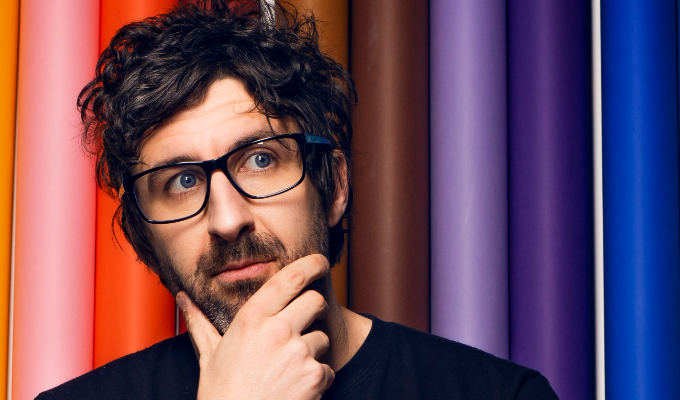 'A comedy chain letter'
Thirty comedians including Phil Wang, Mark Watson, Ivo Graham, Ahih Shah, Felicity Ward and Eleanor Tiernan have contributed to a new series of audio short stories created during lockdown.
Plot Twist is described as a 'comedy chain letter', with each story created by a team of five comedians who were given a strict two hours to write their chapter, before handing their baton to the next team.
It was created by the Melbourne International Comedy Festival for Audible, and has been released to subscribers today.
The series is hosted by Australian comic Nikki Britton who said: 'It's a wild ride inside the imaginations of some of my favourite funny people.
'I think what we all want this year is to escape from reality; to be wrapped in a blanket and told a story. I can't promise these stories all have happy endings (and you're going to have to sort the blanket situation out on your own), but I can promise you will not see the ending coming.
'I have loved every second of making this globe-spanning comedy love child.'
Melbourne comedy festival director Susan Provan added: 'The best laugh-out-loud moments come from ridiculous surprises and Plot Twist is full of them. Delivered by thirty of the very best, this series is a joy!'
EPISODE 1 – The Reckoning
Written & performed by Nikki Britton, Rhys Nicholson, Cal Wilson, Aaron Chen & Phil Wang
EPISODE 2 – The Curse of Dulcie
Written & performed by: Susie Youssef, Eddie Perfect, Shenoah Allen, Damian Callinan & Eleanor Tiernan
EPISODE 3 – Slaughter In the Key of B
Written & performed by: Denise Scott, Rahul Subramanian, Mel Buttle, Cassie Workman & Ivo Graham
EPISODE 4 – My Mother the Elephant
Written & performed by: Maria Bamford, Nath Valvo, Zoe Coombs Marr, Lizzy Hoo & Ahir Shah
EPISODE 5 – Jumping Off
Written & performed by: Mark Watson, David Quirk, Luke Heggie, DeAnne Smith & Felicity Ward
EPISODE 6 – You Don't Know How Quick I Go
Written & performed by: Frank Woodley, Anna Piper Scott, Jen Kirkman. Dane Simpson & Claire Hooper
• Mark Watson is also taking part in the Chortle Comedy Book festival at 7pm tonight, talking about his new novel, Contacts. Details.
Published: 17 Nov 2020
What do you think?