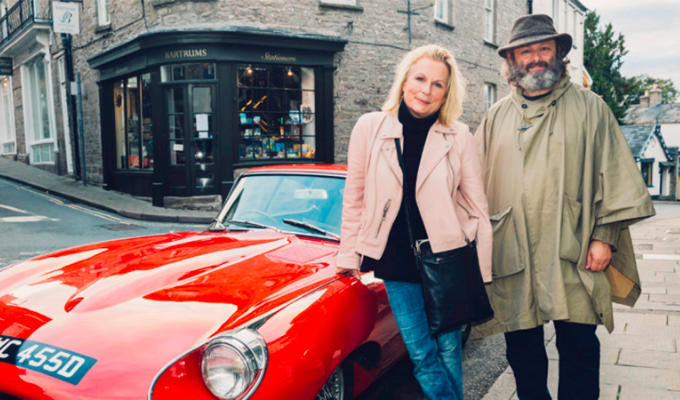 Jennifer Saunders to host car-based interview series
Jennifer Saunders is to host a new talk show in which she drives her guest around in a classic Jaguar E-Type.
A one-off of Jennifer Saunders' Memory Lane, believed to be a pilot for a full series, will air on ITV this Christmas with guest Michael Sheen.
They will visit landmarks from his life as they drive through the streets of Port Talbot where he grew up, and where he has returned to live after a successful Hollywood career.
ITV say: 'With her wit, charm and empathy – alongside a great love of cars – Jennifer is the perfect host for this celebration of a journey through her guest's past.'
Saunders currently appears with Sheen as rival team captain on Sky's Alan Carr-fronted There's Something About Movies.
Jennifer Saunders' Memory Lane is the latest in a string of car-based comedy interview shows. In 2010 Red Dwarf's Robert Llewellyn hosted Carpool on Dave, following his own internet series, while James Corden's Carpool Karaoke and Jerry Seinfeld's Comedians In Cars Getting Coffee have been hits on CBS and Netflix respectively.
Saunders previously guested on Victoria Coren Mitchell's Radio 4 show Women Talking About Cars when she spoke about the Porsche 911 she drives, her father's Ford Zephyr and the day her husband-to-be Adrian Edmondson reversed into her Alfa Romeo Spider.
Jennifer Saunders' Memory Lane Production Credits
Made by: So Television/Illuminated Manuscript
Producer: Andy Rowe
Executive producers: Graham Stuart and Andrew Higgie.
Published: 12 Nov 2020
What do you think?