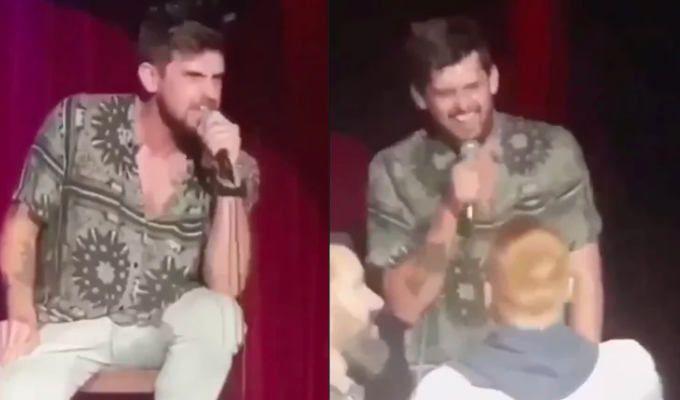 Comedy gig turns nasty
YouTuber turned stand-up Alex Williamson says he's seeking mental health advice after turning nasty on a punter in a comedy club this weekend.
Footage posted online shows the Australian comedian unleashing a torrent of C-bombs at the man, before striding on to his table and kicking drinks over.
He told the man, seemingly in reference to his parents: 'I'm glad they're dead, so they didn't get to see their son evolve into a such a fucking useless sack of shit.'
In an agitated outburst, 32-year-old Williamson claimed his comedy was going over the punter's head – and when the heckler used the usual defence that he was making the show better, the comic lost his cool.
He squared up to the punter, repeatedly taunting: 'walk the fuck away, cunt' and saying: 'You open your mouth you pay the fucking price, cunt' while kicking at the table.
The gig at at Adelaide's Rhino Room then descended into chaos, with the punters dragged out and drinks thrown at the stage, which Williamson avoided.
He later joked that he dodged the projectiles like Neo in The Matrix and added that doing comedy at the moment feels like an 'extreme sport'.
October 18, 2020
It's not the first time the comic has got into a violent confrontation with a member of his audience.
In March, he proudly posted footage of him repeatedly taking swings at a punter, who retaliated by attempting to glass him with a bottle. When he posted the clip he invited audience members to 'come bottle me' at future fgigs.
Posting on Instagram today, he spoke about his mental health, saying there were 'lots of things at play below the surface over the last two weeks as as I underwent an episode. Things you could only speculate on, without a proper understanding.
'I'm seeing a doctor tomorrow to give them a proper understanding… If you see the same darkness I saw, I encourage you to speak to a loved one. A friend. A medical professional. Hell, even a dog. Because it's lonely out there.
'Apologies to those that missed out on my show Saturday. I'll be back better than ever.'
Williamson is a regular at the Edinburgh Fringe... and in a scathing 2015 review, Chortle critic Paul Fleckney described his 'sexaully aggressive' show as 'one of the worst I've ever seen'
Published: 19 Oct 2020
Recent News
What do you think?