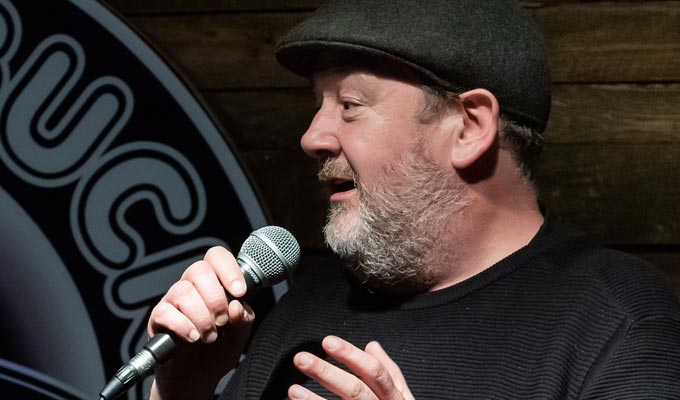 Rivalries put aside
Hot Water Comedy Club has donated £5,000 to help a former rival to survive the coronavirus crisis.
The Liverpool venue is currently the biggest donor to a crowdfunding appeal set up by the Frog & Bucket in Manchester.
They started the online fundraiser after being denied £60,000 from the government's cultural recovery fund because they were not deemed 'culturally significant' enough.
That blow came despite a 26-year history in which the club launched the careers of Peter Kay, John Bishop and Johnny Vegas (pictured on its stage) and was instrumental in the development of hundreds more.
Writing on the crowdfunding page, venue director Jessica Toomey said: 'The Frog prides itself on discovering and nurturing talent week in, week out for 26 years and have particularly championed Women in Comedy with an annual festival.
'We believe we are essential to the live comedy circuit and Manchester's cultural offering and now need to crowdfund in the short term to stay open on reduced capacity and keep comics in work and audiences laughing.'
Despite being hit by the strict Tier 3 restrictions imposed on Liverpool, Hot Water was quick to contribute to the cause.
The donation comes after Hot Water attempted to launch a club in Manchester last year, within walking distance of the Frog & Bucket, but it failed to take off.
Published: 16 Oct 2020
What do you think?