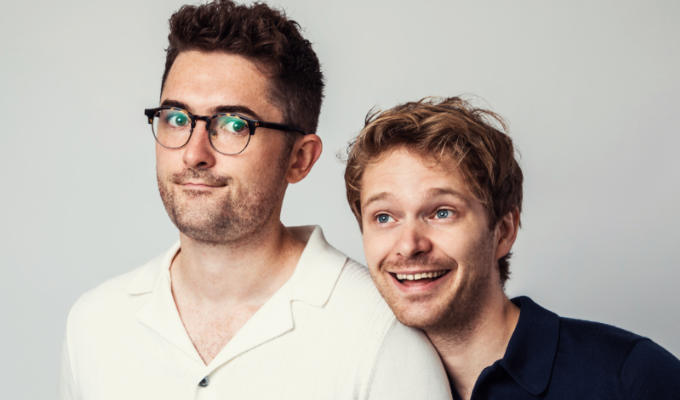 The Pin head for the West End
Comedy double act The Pin are to star in a West End play they have written.
The Comeback is based on Ben Ashenden and Alex Owen's 2018 Edinburgh show Backstage, in which they play the warm-up acts for a fading comedy duo's tour.
Each night at the Noel Coward Theatre the pair will be joined on stage by a surprise celebrity guest star playing a cameo role - in a similar way to the Morecambe and Wise tribute The Play What I Wrote.
The show is being produced by impresario Sonia Friedman under Covid guidelines, and has been booked to run from December 8 to January 3.
In a statement, Ashenden and Owen said: 'After eight years of lugging props between tiny venues, and eight months of watching those props gather dust, we feel ridiculously excited and fortunate to be bringing a play to the West End.
'For it to have been developed with and presented by a producer of Sonia Friedman's immense standing makes us very proud, and provides ample material for anxiety dreams in which hidden cameras are revealed and words like "prank" shouted.
'We hope to provide 90 minutes of silliness, escapism, and extremely well-dusted props.'
Friedman added: 'I was excited about The Pin's debut play long before lockdown, but after the year we've had, it feels like the perfect tonic. More than ever, we need the laughter and emotional connection of communal experience – and frankly, nothing provides that like live theatre. The Comeback delivers all that and much more.
'It's so heartening to see artists and audiences in theatres once again this Christmas. As theatre makers – performers and producers alike – we have a duty to do our bit to lift the nation's spirits and nourish its soul. It's why now, despite the ultra-tight financial pressures social distancing entails and against all the odds, we're doing all we can to get shows back on stages. Audiences need live entertainment as much as we need them.
'Producing shows this Christmas is a tightrope act, but The Comeback will go ahead – following approved working guidelines and so long as government restrictions allow.'
The show is directed by Emily Burns, who previously oversaw the Edinburgh show, and tickets are available here, priced from £18 to £65.75
The pair recorded this trailer, featuring some familiar comedy faces, to promote the show.
Published: 15 Oct 2020
Recent News
What do you think?