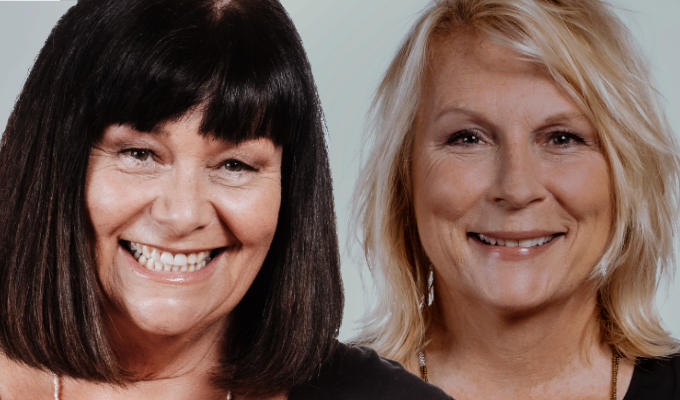 French & Saunders reunite for a podcast
Dawn French and Jennifer Saunders have reunited for a new podcast.
The pair have recorded six episodes of Titting About for Audible, which will all be released today, with topics ranging from school to hobbies.
French said: 'Titting About with Fatty is the best fun I've had without my incontinence pants on. Which, on reflection, was a mistake. Some soft furnishings were damaged in the making of this series.'
Saunders added: 'I can't imagine anything I'd rather be doing than titting about with Dawn. We both have tits after all.'
They met in 1978 while they were students at the Royal Central School of Speech and Drama, and quickly found themselves at the heart of the alternative comedy scene, via the Comic Strip.
They were last seen together on screen earlier this year in the new movie version of Agatha Christie's Hercule Poirot thriller Death on the Nile, directed by Sir Kenneth Branagh. That was their first professional reunion in four years, since the Ab Fab film, in which French made a cameo as a talk show host.
The descriptions of the six new podcast episodes, available here, are:
Episode 1: Passions and Hobbies: Including Jennifer's love of football and Dawn's fondness for kissing.
Episode 2: Holidays: Dawn recalls dribbling on a stranger whilst asleep on Concorde, whilst Jennifer remembers childhood holidays swimming in sewage.
Episode 3: School: Dawn and Jennifer remember frightening teachers, the awkwardness of sex education and – that dreaded word that brings fear into children and adults alike – 'liver'.
Episode 4: The Seven Deadly Sins: Dawn and Jennifer examine their lives, through the moral compass of the Seven Deadly Sins. Subjects covered include Idris Elba, road rage and elastic waistbands.
Episode 5: Food: Jennifer reveals her top-three vegetables and Dawn shares what her last meal would be.
Episode 6: If We Were Alive Now: Dawn and Jennifer look back at their careers. From early gigs as a double act with one functioning microphone to considering which shows they would parody now.
Published: 6 Oct 2020
What do you think?