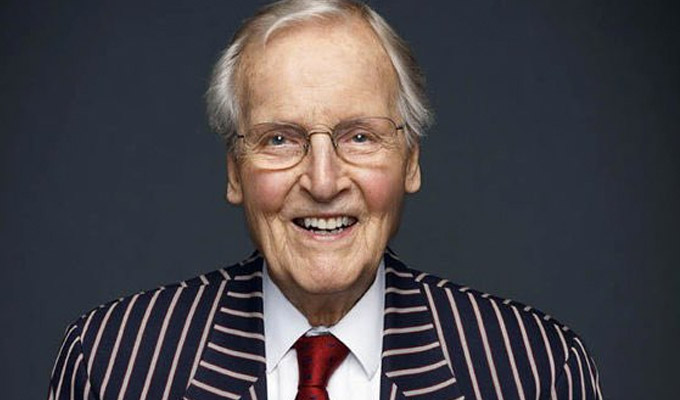 Radio 4 to dedicate a night to Nicholas Parsons
Radio 4 is to dedicate a night of programming to Nicholas Parsons on what would have been his 97th birthday.
The line-up for Saturday October 10 will include a new documentary as well as highlights from the BBC archives.
Paul Merton - who teased Parsons on Just A Minute for more than 30 years – will Clive Anderson on Loose Ends to introduce the evening.
At 7pm, the programming proper kicks off with the new tribute, fronted by TV producer Paul Jackson. Those taking part in Nicholas Parsons: A Man Of Many Parts include Merton, John Antrobus, Gyles Brandreth and Adrian Edmondson.
It's followed by a rerun of the 800th edition of Just a Minute, which aired in 2010, featuring Merton and Brandreth alongside Sheila Hancock and Ian MacMillan.
At 8pm, The Straight Man presents a short history of the stooge in comedy double-acts, presented by Parsons, who started his career as Arthur Haynes's right-hand man. Those taking part in the 2005 show include Syd Little, Peter Reeves and Ian Tough, of The Krankies.
Going further back still, in Doon The Watta, originally broadcast in 2010, Parsons returns to the Clyde, where he worked as an apprentice in the 1940s, to rekindle memories of his life in Glasgow and journey down the river he loved.
Parsons' 2007 Desert Island Discs follows at 9pm, when he revealed: 'The joy of performing is that you overcome the insecurity of your nature and are reassured by the reaction of the audience.'
The programming then continues on Radio 4 Extra with Just A Minute Does Panto!, the 2017 special that also includes Tom Allen, Pippa Evans, Tony Hawks, Rufus Hound and Julian Clary.
Nicholas's widow Annie Parsons said: 'Nicholas loved the BBC and he would consider this evening an unbelievable honour and be immensely flattered.'
Radio 4's commissioning editor for comedy, Sioned Wiliam added: 'There is so much love and respect among us all at Radio 4 and our listeners for Nicholas, we miss him so much.
'He leaves behind one of the finest comedy and broadcasting legacies spanning over 50 years. We're delighted to be able to remember him through a selection of that brilliance on this evening.'
Parsons died on January 28 this year.
Published: 24 Sep 2020
Recent News
What do you think?