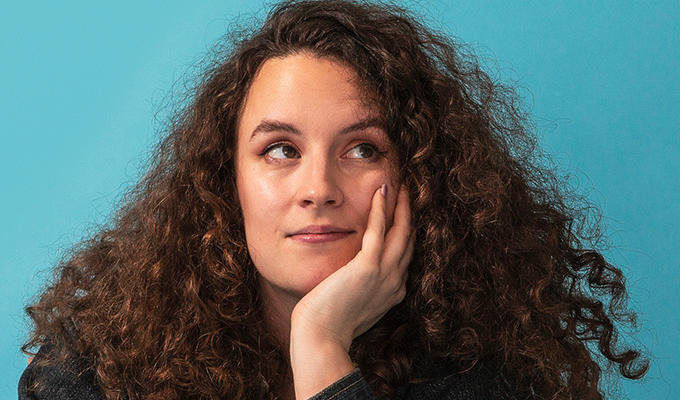 Ousted from her own podcast!
Comedian Poppy Hillstead has complained about being unceremoniously dumped from a hit podcast she helped establish.
The actor and film-maker launched Gossipmongers with stand-ups Joe Wilkinson and David Earl – best known for his alter-ego Brian Gittins – last year.
However, she has been ditched for the fourth series, which launched today, and says he co-stars didn't have the grace to fire her in person.
In a post that has already attracted almost 2,000 'likes' in just a few hours on Twitter, Hillstead said: 'Reeeeeally didn't want to put anything but people keep asking. So here you go.'
She then wrote: 'After 3 series, having built the podcast with them and having never had a bad note from them, out of nowhere David and Joe decided to kick me out via their agents, saying I lacked the experience needed and "this opportunity has come a little too soon for her.'
She followed that with a shrug emoji, adding: 'Thought these guys were my friends - but yeah.'
All of the previous episodes of Gossipmongers have been taken offline, and Hillstead has been removed from the show's official artwork.
Agents for both Wilkinson and Earl have not responded to Chortle's request for comment.
In each episode the trio read out unsubstantiated rumours sent in by listeners, with them spreading the best by having Poppy to shout it out the window.
In a major spoiler, she revealed in her tweet: 'There wasn't any widow, I just shouted it at a wall.'
Hundreds of fans offered their support on social media, with comments such as:
'I'm sure you know this, but just to restate they've clearly massively underestimated what you bring to the pod. Terrible move and disgraceful way to go about it'
'I listened to the first episode of the new series this morning and it's missing a HUGE part of what made it such a great podcast. The whole dynamic has changed. It's gone from what sounded like a few mates having a laugh to a couple of blokes over-egging it. What a shame'
'So basically @gossipmongers1 turned a great podcast into another two male comedians talking to each other. Sorry to hear Poppy you were part of what made it great will be listening to entered the chat now!
I just want to add my voice to the many people saying that this is outrageously shit. You were such a massive part of what made it and those reasons given are just nonsense.'
Since being ousted from Gossipmongers, Hillstead has set up her own podcast entitled Poppy Hillstead Has Entered The Chat.
The concept is that she goes into internet chatrooms, talks to real people, then re-enacts the conversations with guests.
In an interview to mark its launch earlier this summer she said: 'I went into this knowing that there would be some filth… but I thought, despite that, that there might actually be a couple of sweet moments. But, I'm going to tell you now, there is none of that. It's 100 percent absolute, manky shit.'
Published: 14 Sep 2020
What do you think?