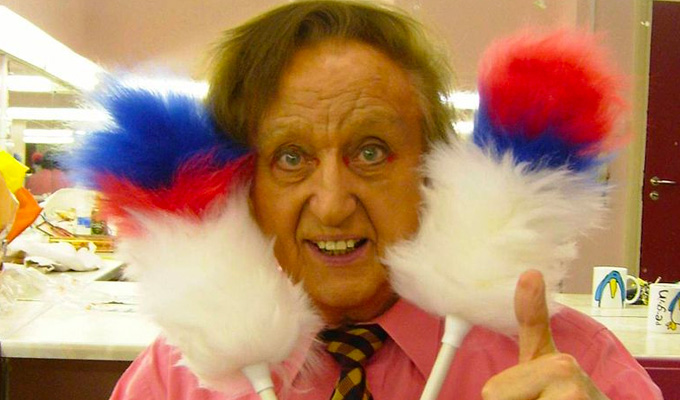 Ken Dodd helps build a new theatre
Ken Dodd is helping to build a new theatre from beyond the grave.
A charity he set up will put £700,000 towards build a Shakespeare North Playhouse in Prescot, Merseyside, it has been announced today.
Lady Dodd will appear on BBC One's The One Show tonight to confirm the donation.
She said: 'Ken's real love was the theatre and Liverpool. He set up the Ken Dodd Charitable Foundation some years ago and I'm now able to use the money in that foundation - and his legacy - to fund a lot of different and wonderful projects, one of which is this Shakespeare North Playhouse theatre.
'Ken was approached a couple of years before he passed, and he was absolutely delighted to be able to help with this project.'
The redevelopment, which is due to open in 2022, will cost £24million and include a 'performance garden', which Lady Dodd described as 'like a mini amphitheatre, people will sit on the steps, and Ken loved amphitheatres when we used to travel around Europe.
'One of the ideas I had was that famous phrases from Shakespeare should appear on the steps as you go up, interspersed with "how tickled I am", "tattyfilarious", "plumptious" – a few of Ken's well-known phrases."
Dodd played Malvolio in Twelfth Night at the Liverpool Playhouse in 1971, and as Yorrick - in non-speaking flashback - in Kenneth Branagh's movie version of Hamlet in 1996.
From the mid-1590s to 1609, Prescot was home to the Prescot Playhouse, a purpose-built Shakespearean theatre, believed to be the only purpose-built theatre outside London at the time.
Lady Dodd, will also launch a new playwriting competition for young people, As You Write It, when she appears on tonight's show to confirm the £700,000 donation, up from a previously announced £250,000.
Published: 19 Aug 2020
What do you think?