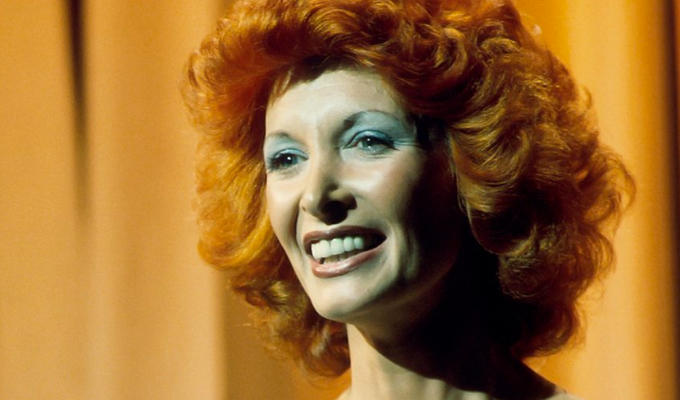 Marti Caine denied city honour because she won't show up to the unveiling
Bureaucrats have rejected calls to honour the late comedy trailblazer Marti Caine on a walk of fame - because she wouldn't be able to attend the unveiling.
More than 600 people have called for Caine to be honoured with a place on the Sheffield Legends Walk Of Fame alongside the likes of Michael Palin, Def Leppard and Sean Bean.
But because the comedian, dancer, actor and singer died in 1995, aged just 50, she has been ruled out for the tribute.
'One of the requirements is for the personality concerned to be in attendance,' said a spokesman for the council in response to the petition.
Caine overcame a tough childhood to find her way to fame through TV talent show New Faces in 1975, defeating both Lenny Henry and Victoria Wood.
She was sexually abused by her grandfather, her mother had a history of alcoholism and drug abuse and her father died when she was young.
At the age of 17, she married a local butcher's boy and became in her own words 'just another starry-eyed wannabe... married with two babies, an ex-beauty queen, stuck on a council estate, with little hope of fulfilling any dreams for a better life'.
But at 19, unable to pay her mother's funeral expenses, she auditioned at a working men's club, landing a job that started her showbiz career.
She went on to host New Faces; be a hit on the cabaret, summer season and pantomime circuits; star in her own BBC sitcom and have a string of hit records.
Though denied a place on the Walk Of Fame, there is a sculpture in the city dedicated to Cane in the city, officially known as the 'Sheen sculpture'. She was due to unveil it but died two weeks before the ceremony.
Others commemorated on the Walk Of Fame outside Sheffield Town Hall include mountain biker Steve Pete, boxing trainer Brendan Ingle and former Sheffield Wednesday striker Derek Dooley,
Published: 8 Jul 2020
What do you think?