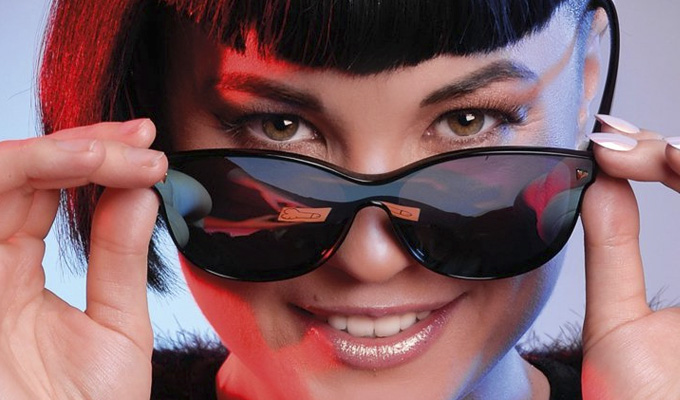 Bec Hill to front a CITV craft show
Stand-up Bec Hill is to make a comedy arts-and-crafts series for CITV.
Aimed at 6-12 year olds, MakeAway Takeaway aims to encouraging creativity by using recycled and reclaimed materials.
The show is being made by production company Dot to Dot, who say: 'Each week, Bec will take the audience and her takeaway customers on a comical journey packed with unique and inspirational art ideas, as she experiments with unusual materials, finds a home for junk, and uses her funny bones to make us laugh along the way.'
London-based Australian Hill is known for using home-made props in her stand-up, especially inventive lo-tech animations made on flip charts, using similar mechanisms to pop-up books.
MakeAway Takeaway was today revealed as one of the recipients of a taxpayer-financed grant from the Young Audiences Content Fund, which aims to help make better television for younger viewers.
Administered by the British Film Institute, a total of 12 programmes across Channel 4, E4, Channel 5's Milkshake!, CITV and S4C have received cash this year..
Also included in today's announcement is the cult comedy puppet series Don't Hug Me I'm Scared for Channel 4.
A surreal musical horror comedy show created by filmmakers Becky Sloan and Joseph Pelling, it ran on the web from 2011 to 2016, with one episode prevously airing as part of C4's Random Acts strand showcasing short films.
Fiona McDermott, Channel 4's head of comedy, said: 'Don't Hug Me I'm Scared is a uniquely pitched show from one of the most creative production companies around. Ideas that come with such a strong identity and established following are incredibly rare but they are really important factors when it comes to making content for younger audiences.
'We were desperate to endorse this glorious genre-blending-puppet-tour-de-force.'
Other projects being funded include E4's Grime Therapy, an animated series featuring the grime stars, talking openly about mental health; Don't Unleash the Beast, a treasure-hunting game show for CITV, Aardman's animated insect sitcom for 5-11 year olds, Lloyd Of The Flies, also for CITV.
Jackie Edwards, head of the fund at the BFI, said: 'We're proud of the range of projects we've been able to support within our production slate, nurturing stories and concepts we feel will enrich television for young audiences.'
The fund contributes up to 50 per cent of the production costs for projects that have secured a broadcast commitment..
Published: 7 Jul 2020
What do you think?