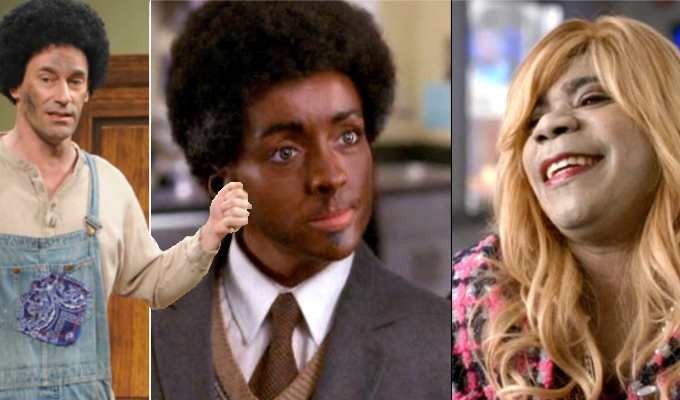 Tina Fey pulls 30 Rock episodes over blackface
Tina Fey has pulled some episodes of 30 Rock from on-demand services because of blackface.
The episodes had previously been available to buy via Amazon in the UK, but are no longer on sale.
In the US, they have been pulled from Amazon's streaming service and had been on sale through iTunes and Google Play.
Two of the episodes feature Jane Krakowski's character Jenna Maroney darkening her face.
In Believe In The Stars, originally aired in 2008 as part of the third season, she puts on blackface while her co-star Tracy Jordan (Tracy Morgan) lightens his skin and dresses as a woman to determine whether white women or black men have it tougher in society.
In season five's Christmas Attack Zone, from 2010, she wore blackface while dressing as former Pittsburgh Steelers star Lynn Swann. Her boyfriend, played by guest star Will Forte, dressed as Natalie Portman in a spoof of her film Black Swan.
Two episodes that originally went out live have also been pulled, including on in which Mad Men star John Hamm partially darkened his skin to parody Amos 'n' Andy – a show about black Americans living in Harlem that ran for more than 30 years on radio up to 1960… with white actors playing the black parts.
Fey and her co-creator Robert Carlock asked streaming services to drop the episodes.
In the letter Fey wrote to them – as reported by Vulture – she said: ''As we strive to do the work and do better in regards to race in America, we believe that these episodes featuring actors in race-changing makeup are best taken out of circulation.
'I understand now that "intent" is not a free pass for white people to use these images. I apologize for pain they have caused.
'Going forward, no comedy-loving kid needs to stumble on these tropes and be stung by their ugliness. I thank NBCUniversal for honoring this request.'
Their decision follows the removal of Little Britain, Come Fly With Me,The Mighty Boosh and The League of Gentlemen from Netflix over similar concerns.
Published: 23 Jun 2020
What do you think?