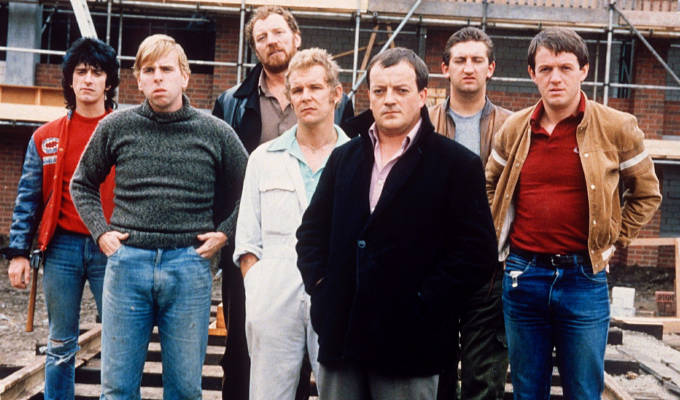 Pet peeves
Auf Wiedersehen, Pet fans – and even its star Tim Healy – have blasted broadcasters for butchering the 1980s comedy-drama.
Healey, who played Dennis in the hit ITV series, criticised the way the show had been edited before being repeated on the Yesterday channel.
He wrote on Twitter: 'It's such a shame all the gags have gone, so the rhythm of the scenes have become stilted and awkward.'
And in response to another fan, the actor said the cuts were 'political correctness gone mad'.
Many viewers of the show have expressed their discontent with the edits. One, Karl Marsden, said: 'The re-runs on Yesterday are absolutely pointless, totally cut to shreds and I don't know why half of the content is edited.'
Lee Barratt, from the official Auf Wiedersehen, Pet fansite told Chortle they have even stopped telling members about the repeats which they say ruin the pace of the show.
'They chop out every swear word, ' he said. 'These include punchlines to jokes or character banter, meaning most of the time the comedy element is destroyed.
'I refuse to watch them as do many, but it's incredibly sad how a new audience is discovering this amazing show and the key elements are removed.'
While accepting that some of the humour wouldn't be family-friendly he said the show should go out post-watershed, rather than being cut for an earlier slot.
'I've pleaded countless times for them to show unedited versions and we could get them massive viewing figures,' he said. 'We used to advertise the fact that they were being shown with notes to fans they were edited but the backlash became too much, so we don't even mention it now.'
He also gave examples of whole scenes being cut, including one of Tim Spall's character Barry trying on some tight Bermuda shorts which split, prompting the other lads to tease him. 'It's a massive scene, not important but exactly what the show is about,' Barratt said. 'All chopped out'
He also said he had become infuriated with the way broadcaster UKTV, which owns Yesterday and others, had previously started showing Auf Wiedersehen, Pet before dropping it midway through the run.
The show, written by Dick Clement and Ian La Frenais and co-starring Kevin Whately, Jimmy Nail, Pat Roach and others, attracted audiences topping 10 million at its peak.
UKTV said: 'We make small edits to archive programming to ensure it will comply with modern Ofcom regulations. We sometimes have to edit to fit with modern broadcast schedules and timeslots.
'The edit we have is a pre-watershed version, this can often be played post-watershed too.'
Published: 4 Jun 2020
What do you think?