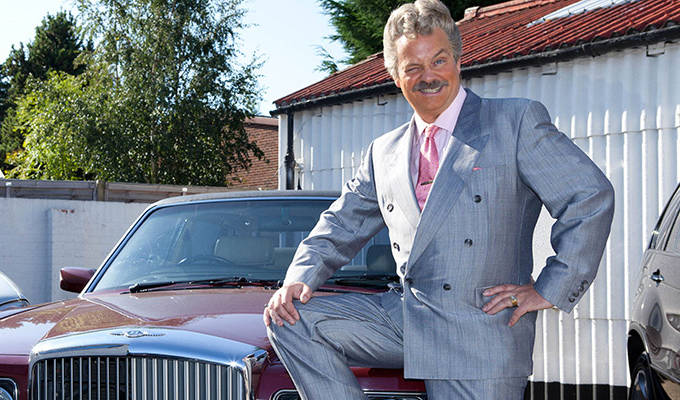 Charlie Higson revives Swiss Toni
Charlie Higson's smooth-talking used car dealer Swiss Toni and Mackenzie Crook's ineffectual teacher Mr Bagshaw are both being revived by the BBC.
Both characters have recorded sketches for the new lockdown series Comedians: Home Alone, which launched on BBC Two last night.
Higson even mastered an animation app in three days, with the help of his sons, to bring his Fast Show creation to life for the series.
He said he turned to animation because he no longer looks like the unreconstructed character, who made his debut in The Smell of Reeves and Mortimer in 1995 and went on to have two series of his own on BBC Three in 2003 and 2004.
Higson reunited with Bob Mortimer – who has also made several contributions Comedians: Home Alone, including his alpha-male businessman Train Guy - to write the script.
The Young Bond writer told The Guardian: 'Bob always used to write the really filthy analogies, and then I would write the other non-funny stuff that people don't always like.'
Swiss Toni appears in the third episode of the series, explaining why avoiding the coronavirus is 'like making love to a beautiful woman shot through with STDs' – while junior salesman Paul, again played by Rhys Thomas, challenges his 'twisted sexual analogies'.
Meanwhile, Detectorist creator Crook has dusted down his polyester tracksuit to recreate the schoolteacher character which he used on the comedy circuit from the early 1990s to the early 2000s, for the fifth episode of Comedians: Home Alone.
In his scene, the PE and geography teacher hosts an online fitness class, far from Joe Wicks's output, despite struggling with the technology and being cyberbullied by class 9B in the chat window.
Published: 2 Jun 2020
What do you think?