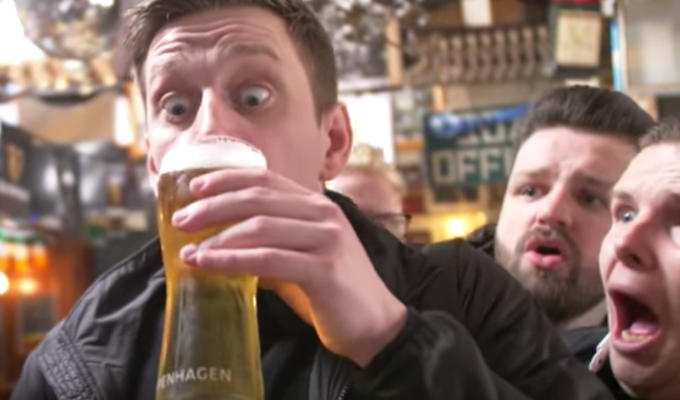 Our video was ripped off - and THEY got all the hits
An online comedian has spoken about his frustration after a video his sketch troupe made went viral – without any credit.
Joseph McGucken became even more angry when a bar reshot the sketch, virtually shot for shot, to promote their business.
He originally made the video in 2018 with his group The Windup Merchantz to mark the fact that Irish pubs were to open on Good Friday for the first time in 90 years.
It shows a group of lads being overcome with bliss at being allowed into a pub, fondling the pumps and even sniffing the upholstery in ecstasy at their new freedom.
While it attracted thousands of views on its original release, it has now been seen by millions more people across the globe after being repackaged under the title 'when pubs open after the coronavirus'.
Only problem is, it was not McGucken and the Windup Merchantz who reaped the benefits of the newfound success, but a Facebook user called Steve Lewis, who had reuploaded it to his feed without credit. It currently has more than 36,000 comments on his Facebook page alone.
From there it was shared across hundreds of pages without the Windup Merchantz's consent, whereupon it was picked up by a pub in Austria, which recreated it for its own customers.
The revelation comes as comedians called out a Twitter feed specialising in 'dad jokes' for ripping off the work of stand-ups, and publishing them uncredited and without payment, in a book.
In a new video pointing out the plagiarism, McGucken said: 'A month ago the video went viral. Some guy with like 150 friends on Facebook, must have ripped the video, downloaded it, and deleted the ending – which is the fucking punchline – and then uploaded up as it own. The video ended up getting millions of views and hundreds and thousands of comments and likes and shares.'
McGucken says he asked to be credited, but Lewis's response was merely to block him.
'There's no recognition, no credit, no acknowledgement of who is the original content creator is,' he said. 'It's frustrating. We put a lot of effort into that video. I love it, but it's not for other people to rob.'
However, Lewis, originally from Salford but now living in Bulgaria, told Chortle he didn't block anybody, and was just sharing a 'fantastic video which was sent to me by a friend' on Facebook.
It was the fact that the video was reshot by Gates Lifestyle Bar in Klagenfurt in Austria – 'for a business to profit financially' – that was the last straw for the Windup Merchantz.
The bar did acknowledge the source when the similarities were first pointed out online, saying: 'Being copied is a high form of recognition, isn't it?'
But McGucken was not calmed: 'Literally shot for shot!' he said incredulously in his video. 'It's mental. I don't know if it's legal It's blatant plagiarism, it's not a compliment.'
Bar owner Wolfgang 'Picco' Radda told Chortle that they had always acknowledged the original, which he called 'one of the best videos of its kind' that he had seen.
Indeed a local newspaper article published last week mentioned how he wanted to remake the Irish video to celebrate his bar's reopening tomorrow.
'We are using it to make people happy in times like this - so I think it's OK,' he said. 'We always named the Irish version as the original and ours as a copy. And as a nice side-effect: as our version is seen all over the world people will also look at the original version. Both sides win.'
Here's the original film in its entirety:
Published: 14 May 2020
What do you think?