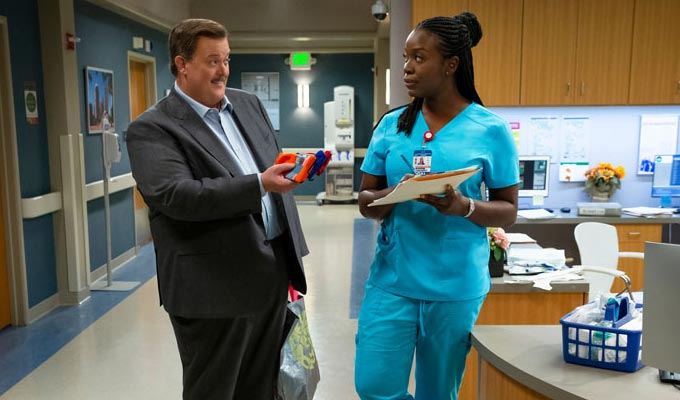 Second series for Gina Yashere's US sitcom
American broadcaster CBS has ordered a second series of Gina Yashere's comedy Bob Hearts Abishola.
She co-created the series with other producers including American sitcom king Chuck Lorre, the man behind monster hits such as Two And A Half Men and The Big Bang Theory.
Yashere thanked cast, crew and producers on social media, adding: 'Moved out to the US in 2007, with 2 suitcases & a dream. Only took 25 years in this business, but never too late for a dream to come true. And I didn't just dream. I PUT IN THAT WORK.'
She has previously spoken of how she felt she had to move to America after hitting a glass ceiling as a black comic in the UK, finding it impossible to break out of the live circuit.
Bob Hearts Abishola is about a white, divorced businessman who falls for the nurse who looked after him after a heart attack – a Nigerian who came to America to find a better life for herself and her son.
It stars Billy Gardell and Folake Olowofoyeku in the title roles, while Yashere plays Kemi, Abishola's best friend.
It's understood producers are hoping start work on the second series of Bob Hearts Abishola as early as next month.
The first season began in September with 7.45million viewers, which initially fell away but then rose again to 8.24million by the end of the series last month.
Review aggregator website Rotten Tomatoes says it scored an average rating of 6.75/10 surmising that the show is 'groundbreaking… but undermines its own progressive premise with underwhelming humour that relies too heavily on outdated stereotypes'
Not that Lorre got rich by listening to what the critics said…
Published: 6 May 2020
What do you think?