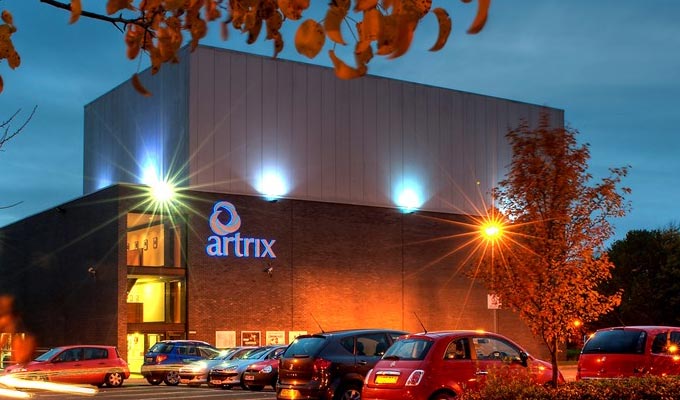 Arts centre goes under
Bromsgrove's Artrix arts centre has ceased trading after being forced to close its doors because of the coronavirus pandemic.
The collapse of the charity will spark fears for other venues across the UK that were already in precarious financial straits even before the lockdown began.
Artrix trustees had spent two years trying to keep the business afloat, but the sudden collapse of ticket revenue torpedoed its fragile recovery. They say they had no choice but to cease trading – or risk trading illegally.
Venue director Angela Galvin said: 'This is devastating news for the whole amazing Artrix family - our small but mighty team of paid staff who are losing the jobs to which they have dedicated themselves with such passion and vigour for so long, and our wonderful volunteers who have given thousands of hours to supporting our work because they believe in what Artrix stands for.
' Over the past 15 years we have shown there is a need for an arts centre in Bromsgrove. T the need is still there, the goodwill is still there. We sincerely believe that when this extraordinary situation is over an arts centre for Bromsgrove will rise again.'
Comedians scheduled to play the Artrix in the coming months included Andrew Maxwell, Josie Long and Tom Houghton.
Mark Watson described the news as 'gutting', adding on Twitter: 'One of the best small comedy venues in the Midlands. Thoughts go to all the great people who worked there and its loyal audience'.
In a statement, the trustees said: 'We have been unable to access Government support in the form of grants or loans as we do not meet the eligibility criteria.
'We, like many other venues, have been unable to claim against our business interruption insurance because insurers are not recognising Covid-19 on their list of notifiable diseases. Eighteen of team Artrix are now on furlough through the Government's Job Retention Scheme.
'The remaining four salaried staff have been holding the fort on finance, rescheduling the programme and
dealing with emails to box office.
'The cost of mothballing the business on a skeleton staff together with building overheads is almost £10,000 a month.
'With no income since March 16, and no certainty of returning to normal ticket sales and catering income for at least 6 months, our assets do not cover our liabilities and we are therefore technically insolvent.
'The trustees have taken advice from the Charity Commission and an insolvency specialist.
'Following this advice the trustees reluctantly conclude that Bromsgrove Arts Centre Trust – Artrix – must cease trading immediately or risk trading illegally.'
Published: 7 Apr 2020
What do you think?