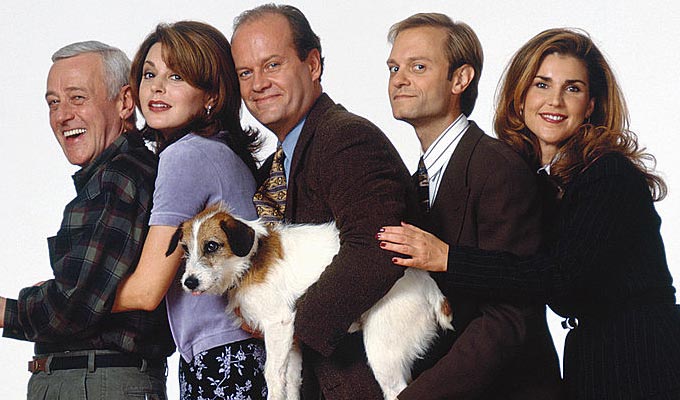 Frasier cast reunite
The cast of Frasier reunited last night for an hour-long video interview.
Kelsey Grammer, David Hyde Pierce, Jane Leeves, Peri Gilpin all took part in the talk, raising money for The Actor's Fund during the coronavirsus lockdown.
During the chat, Grammer revealed he originally rejected the idea of his psychiatrist character receiving his own spin-off from Cheers.
'My original thought was that Frasier should die with Cheers and that we should do something else,' he said.
And Hyde Pierce admitted he first thought the show was a dud, because his character Niles was so similar to Frasier.
'When they sent me the script I thought, "Well this is terrible". I thought they'd written two of the same character. I thought, "What a stupid thing to do!" That was one of the first of my many great insights about the show…'
However the cast refused to be drawn on plans for a full comeback, which Grammer teased last year, saying then they were looking for a proper 'third act' for Frasier, rather than just picking up where the show left off when it ended in 2004, after 11 years on air.
Others who joined the chat on YouTube included Dan Butler, who played radio presenter Bulldog Briscoe, Bebe Neuwirth, who played Fraser's ex-wife Lilith, and Harriet Sansom Harris, who played his agent Bebe Glazer.
The interview, conduced by James Wesley and Seth Rudetsky, is here:
Published: 3 Apr 2020
What do you think?