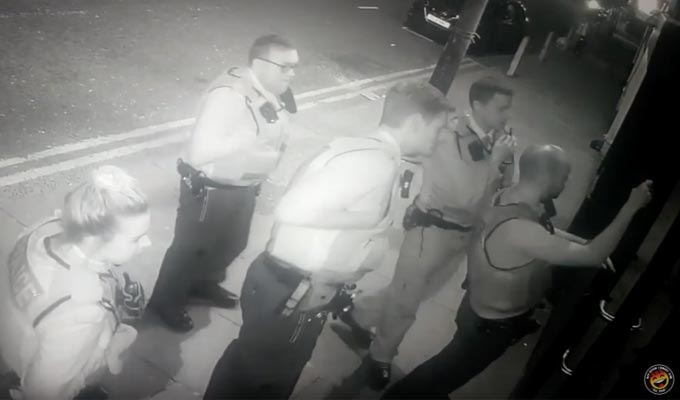 Merseyside Police Farce
When Liverpool's Hot Water comedy club decided to stream an old stand-up night, it must have seemed like a good idea to cheer people up and raise some much-needed money for the coffers at a time of lockdown.
But one person watching the comedians from home last night got the wrong end of the stick and thought the three-week-old footage was a live stream. So they called the cops.
Merseyside Police duly dispatched a dozen officers to shut down the gig which was apparently so flagrantly disregarding the coronavirus social distancing rules.
And, of course, when they arrived at the Hardman Street venue, all they found it locked and empty…
The club posted CCTV footage of the 'raid' on social media. A team of nine officers is seen knocking on the door and listening for activity inside, before being joined by another squad car.
Although the footage was posted with three crying-with-laugher emojis, the venue added: 'Fair play to the police responding so fast.'
And followers of the club online were hardly sympathetic, writing comments such as: 'The police should prosecute themselves for wasting their own time'; 'Could these idiots not just phoned first, instead of rushing there with no social distance between them?' and 'The Keystone cops springs to mind here.'
The taped show, featuring comics Paul Smith, Adam Staunton, Dan Nightingale and Paul Tonkinson, can be viewed below – and the club is still inviting donations to keep it and comedians going at a time when income has dried up.
In total, 23,000 people watched the gig on Facebook and another 19,000 on YouTube.
Published: 29 Mar 2020
What do you think?