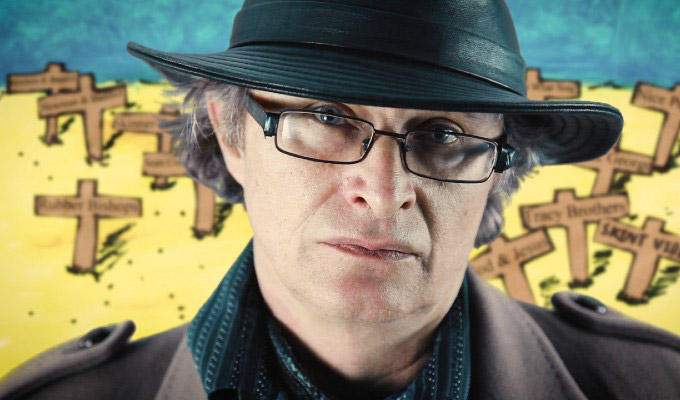 The art of Simon Munnery
Simon Munnery's stand-up has been called 'the closest comedy gets to modern art' – and now it has jumped that divide.
The comedian's paintings, props, jokes, videos, photos and archive material from 35 years in the business are going on display at an art gallery this weekend.
The show, What Am I?, takes its title from a sketch featured in Munnery's 2001 BBC Two series Attention Scum!, in which Kevin Eldon tears around a garden, repeatedly screaming the phrase at the sky.
Exhibits at the Ex-Baldessarre Gallery include the Self-Knowledge Impregnator from Munnery's 1997 Cluub Zarathustra II show, a huge box with a powerful flash that burned the word 'cunt' into the retina of hecklers; his many stick men drawings; a film of his Alan Parker character performing for a recent Extinction Rebellion protest in which several of the crowd are arrested, and oil painting The Wreath, from his 2018 show of the same name, inspired by Sean Hughes' funeral. There's also a new film of Munnery's own 'funeral'.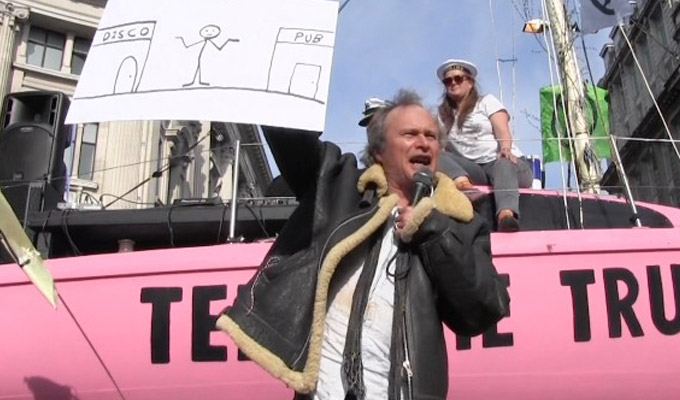 Gallery owner Andy Holden told Chortle that although he'd been urging the comic to stage his first exhibition, 'beyond that, there's definitely a sense that his work is getting quite reflective.
'Not only bringing [Urban Warrior character] Alan Parker back this year. But a feeling that he's nervously looking over his shoulder. The film The Wreath that we've made is hilarious but dead serious too.
'The feeling is that he's getting his papers in order. Which seems terrifyingly honest, though you're never quite sure with Simon. He gives a lot but always holds something back.'
Munnery won a Chortle innovation award for his 2012 'conceptual restaurant' show La Concepta, which served art, jokes, riddles and dance instead of food. He collaborated with Banksy on his acclaimed 2010 film Exit Through The Gift Shop and has appeared as a spokesman for the enigmatic artist. Munnery also once sold a painting, featuring a joke about the Rolling Stones, to guitarist Ronnie Wood.
'He's thrown himself into this exhibition' said Holden. 'He's really quite nervous about it, which is sweet'.
Simon Munnery: What Am I? opens February 29, 6pm to 9pm and is then every Saturday noon to 6pm, until May 9.
By Jay Richardson
Published: 26 Feb 2020
What do you think?