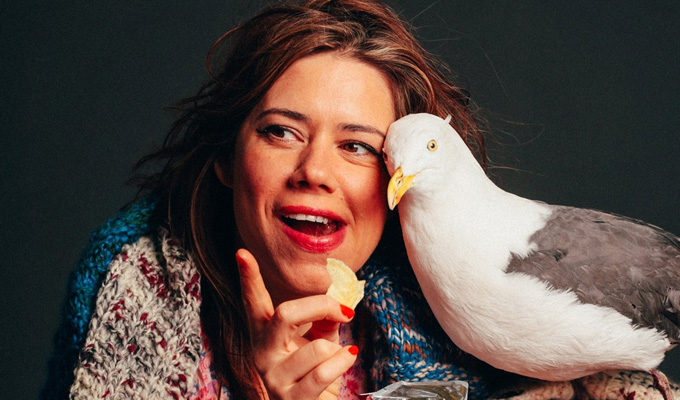 Lou Sanders launches a cuddle-based podcast
The week's best comedy on demand.
Cuddle Club
Lou Sanders has launched a new podcast in which she chats to guests about their preferences for different hug-based scenarios, saying: 'There are podcasts about everything, except cuddling. But don't worry we are rectifying this. Raise your serotonin by listening to people embrace.'
Of course, it's another comedian-chatting-to-comedian podcast, but Sanders claims that 'just like a cuddle' he guests' answers are 'personal, vulnerable and definitely revealing'. And she has great guests lined up with Brett Goldstein and Katherine Ryan in the first two available now in all the usual places, including Acast.
Mel Giedroyc is Quilting
And if you thought cuddling was an odd premise for a podcast, Mel Giedroyc is making a quilt. Each week the former Bake Off host and her presenter pal Andy Bush add to their patchwork with new squares of material donated by friends, famous types and listeners. They'll find out the stories behind the fabrics, develop their sewing skills and chat. Listen here
M.O.T.H.E.R. Knows Best
This video comedy show – which is almost impossible to find thanks to the Tangled song of the very same name – has returned for a second series of dark, dystopian interrogations. Comedian Chris Mayo, co-creator of the series, is The Interviewer and Pippa Evans is the voice of M.O.T.H.E.R.
Clive James: Postcard From London
In 1991, the great Australian wit presented this look at London, featuring the likes of a debutant's ball and reminiscences with Alan Coren about the then-recent decline of Fleet Street as a newspaper hub. And for comedy fans he chats to Victoria Wood, with whom he shared a bed in a very peculiar way, and Peter Cook, who talks about the establishment of The Establishment, his satirical Soho nightclub. Watch on iPlayer
The King of Comedy
Martin Scorsese's ultimate movie about the desperation for fame is streaming again on Amazon Prime, with Robert De Niro as the desperate comedian who kidnaps his TV idol (Jerry Lewis) in an attempt to claim the spotlight for himself. Watch here.
Published: 22 Feb 2020
What do you think?