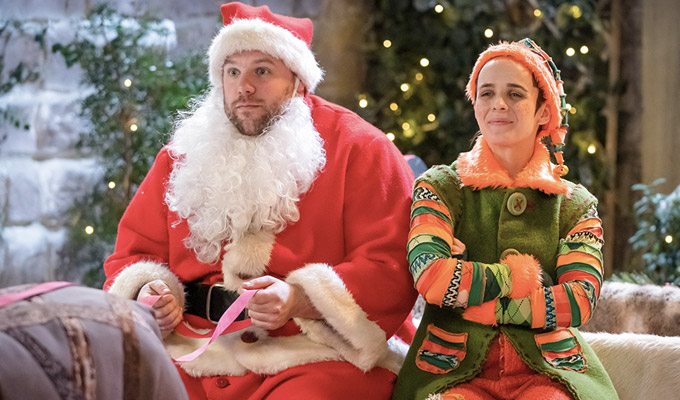 They must be doing something right...
The BBC has ordered as second series of The Goes Wrong Show.
Six new half-hour episodes will chart the continuing slapstick misadventures of the Cornley Drama Society as they attempt to stage half-hour playlets.
The group's hapless director Chris Bean, as played by co-writer Henry Shields said: 'We are delighted, if not a little surprised to have been commissioned to create a second series of The Goes Wrong Show.
'It's no secret that we hit a few snags during production of the first series, but these snags were almost all caused by poor communication. To remedy that for the second series we are issuing all employees with five telephones.'
The format was created by the Mischief company, based on its West End hit The Play That Goes Wrong,
Shields writes and performs with Henry Lewis and Jonathan Sayer, while the returning cast from series one will include Nancy Zamit, Charlie Russell, Bryony Corrigan, Greg Tannahill, Dave Hearn and Chris Leask.
The BBC has today also confirmed a second series for Tom Davis sitcom King Gary, as reported earlier in the week.
Shane Allen, the BBC's controller of comedy commissioning, said: 'These two shows are jam packed with colourful characters and family friendly jokes which embody the BBC's unique commitment to cross generational comedy starring UK talent at the heart of them'.
The first series of Goes Wrong reportedly attracted an average of 2.2million viewers per episode, but has been boosted by strong catch-up views – with a similar picture emerging for King Gary.
According to the BBC, each series has attracted more than two million views on iPlayer.
Allen added: 'The iPlayer figures have transformed comedy's fortunes as the very healthy uplift in consolidated viewing and young audiences brings renewed faith in the genre.
'Shows continue to be increasingly popular and discovered by new audiences over the months and years and even decades that follow."
Broadcast details for both new series have not yet been announced.
The Goes Wrong Show production credits
Made by: Mischief Screen and Big Talk Productions
Executive producers: Hilary Strong and Kenny Wax for Mischief Screen and Kenton Allen, Matthew Justice and Saurabh Kakkar for Big Talk
Commissioned by: Charlotte Moore, director of BBC content and Shane Allen, controller of comedy commissioning
Commissioning editor: Kate Daughton
Published: 14 Feb 2020
What do you think?