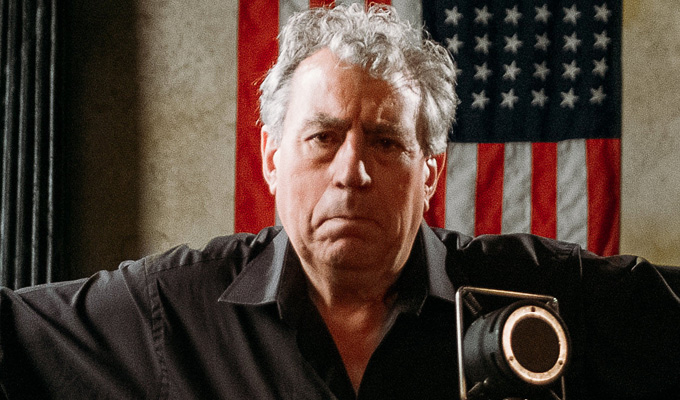 Terry Jones dies at 77
Michael Palin, Eric Idle and John Cleese are among those who have paid tribute to their Monty Python colleague Terry Jones after he died at the age of 77.
The news comes four years after he was diagnosed with a severe type of dementia.
A statement from his family today said: 'We are deeply saddened to have to announce the passing of beloved husband and father, Terry Jones.
'Terry passed away on the evening of 21 January 2020 at the age of 77 with his wife Anna Soderstrom by his side after a long, extremely brave but always good-humoured battle with a rare form of dementia, FTD.
'Over the past few days his wife, children, extended family and many close friends have been constantly with Terry as he gently slipped away at his home in North London.
'We have all lost a kind, funny, warm, creative and truly loving man whose uncompromising individuality, relentless intellect and extraordinary humour has given pleasure to countless millions across six decades.
'His work with Monty Python, his books, films, television programmes, poems and other work will live on forever, a fitting legacy to a true polymath.
'We, his wife Anna, children Bill, Sally, Siri and extended family would like to thank Terry's wonderful medical professionals and carers for making the past few years not only bearable but often joyful.
'We hope that this disease will one day be eradicated entirely. We ask that our privacy be respected at this sensitive time and give thanks that we lived in the presence of an extraordinarily talented, playful and happy man living a truly authentic life, in his words "Lovingly frosted with glucose".'
Palin wrote on Twitter: 'You will be very missed old friend. I feel very fortunate to have shared so much of my life with Terry.'
Speaking on Radio 4, he added: 'Terry was first of all an enormous enthusiast. He threw himself into things with such passion and such energy, and he really refused to take on things which didn't excite him and which didn't feel different from what else was around.
'Part of his warmth was his love of all sorts of things and comedies - he knew an awful lot about the silent film comedians. There were so many aspects to Terry, but I would say enthusiasm and passion were the two main words that described him best.
'I loved writing with Terry because he was very creative. He had some wonderful ideas for characters, he was very funny, he was very good at plot. That was something I was less good at, and when we did the Ripping Yarns, Terry was the one who was very keen to give each story a meaning and a significance.
'He felt everything he did was somehow important and had to be thought about. That was our creative working relationship'
Cleese added on Twitter: 'Just heard about Terry J It feels strange that a man of so many talents and such endless enthusiasm, should have faded so gently away... Of his many achievements, for me the greatest gift he gave us all was his direction of Life of Brian. Perfection Two down, four to go.'
Eric Idle said: 'Thank you all for your kind thoughts and messages of support for our dearly beloved brother Terry. It is a cruel and sad thing. But let's remember just what joy he brought to all of us. I loved him the moment I saw him on stage at the Edinburgh Festival in 1963. So many laughs, moments of total hilarity onstage and off we have all shared with him. It's too sad if you knew him, but if you didn't you will always smile at the many wonderfully funny moments he gave us.'
Also paying tribute today was Stephen Fry, who tweeted: 'Farewell, Terry Jones. The great foot has come down to stamp on you. My god what pleasure you gave, what untrammelled joy and delight. What a wonderful talent, heart and mind.'
Adrian Edmondson added: 'Terry Jones was the only Python who agreed to appear in The Young Ones. It was like affirmation from God himself. This was the man who'd directed what was, and still is, the funniest feature film ever made. We loved him for it, and always will. Sadly, he's eaten his last mint.'
Shane Allen, the controller of comedy commissioning at the BBC, added: 'It's a sad day to lose an absolute Titan of British comedy. One of the founding fathers of the most influential and pioneering comedy ensemble of all time, he created a wealth of highly regarded and enduring work across TV, film and print. He will be long cherished by comedy fans and dearly missed.'
Born on February 1, 1942, in Colwyn Bay, Denbighshire, Jones met his writing partner Palin while studying at Oxford, and performed for several high-profile British comedy programmes, including Do Not Adjust Your Set and The Frost Report, before creating Monty Python's Flying Circus with Cambridge graduates Idle, Cleese and Graham Chapman, and American filmmaker Terry Gilliam.
Jones was largely credited for the programme's innovative, surreal structure, in which sketches flowed from one to the next without the use of punchlines.
He made his directorial debut with the team's first film, Monty Python and the Holy Grail, which he co-directed with Gilliam, and also directed the subsequent Python films, Life of Brian and The Meaning of Life.
Jones also co-created with Palin the anthology series Ripping Yarns.
He is a well-respected medieval historian, having written several books and presented television documentaries about the period, as well as a prolific children's book author.
He has also written books and presented television documentaries on medieval and ancient history.
Jones married biochemist Alison Telfer in 1970 and had two children, Sally (born in 1974), and Bill (born in 1976). In 2012, Jones married Soderstrom, now 36, and they have a ten-year-old daughter Siri.
Three years later he was diagnosed with primary progressive aphasia, a form of frontotemporal dementia (FTD) that impairs the ability to speak and communicate. By September 2016, he was no longer able to give interviews.
In 2016 he received a Bafta Cymru lifetime achievement award, making his first public appearance since announcing his dementia.
Published: 22 Jan 2020
What do you think?