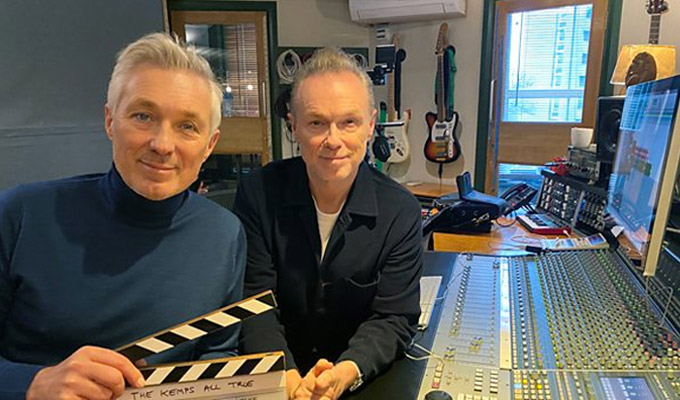 Full cast revealed for The Kemps: All True
The full cast has been revealed for The Kemps: All True – the spoof documentary in which Spandau Ballet's Gary and Martin Kemp will play a fictional version of themselves.
Perry Benson from Benidorm features as their brother 'Ross Kemp' alongside Simon Day, Anna Maxwell Martin, Daniel Mays , Alan Ford, Lucy Montgomery Tony Way and Christopher Eccleston.
Shirlie Holliman, of Pepsi & Shirlie fame and the real-life wife of Martin Kemp, also appears as a version of herself
Chortle first reported that Brian Pern co-creator Rhys Thomas was working on the BBC Four comedy earlier in this month.
Now the BBC has confirmed the show, which will mark 40 years since Spandau Ballet formed. As well as looking at their fake history, the show will explore the Kemps' other passions as Martin attempts to launch a new film franchise and Gary plans a new vegan meat-substitute, Wonge.
Martin Kemp says: 'After being known as Roman Kemp's dad for a few months, I'm really happy to be getting back in the limelight and being known for being that one from Spandau Ballet who hit someone over the head with an ashtray in EastEnders; as well as spending some time with my brothers, Gary and Ross.'
Gary Kemp added: 'I'm thrilled that the BBC is making this probing documentary into the lives of my brother and me, and great to be in the delicate yet blood-stained hands of the wonderful Rhys Thomas. Anyone who knows Rhys's work can expect a little more probing than is usual. Our lawyers await.'
Shane Allen, controller of BBC comedy says: 'I had to Look Up the word hagiography in relation to this... as it's the complete opposite of that. Fair play to Gary and Martin for being good sports and going along with the screwball comedy brain of Rhys Thomas.'
Transmission details have yet to be confirmed.
The Kemps: All True production credits
Made by: BBC Studios
Directed and produced by: Rhys Thomas
Commissioned by: Cassian Harrison, controller of BBC Four, and Shane Allen, controller of BBC comedy
Executive producer: Ben Caudell
Commissioning editor: Alex Moody
Published: 17 Jan 2020
What do you think?