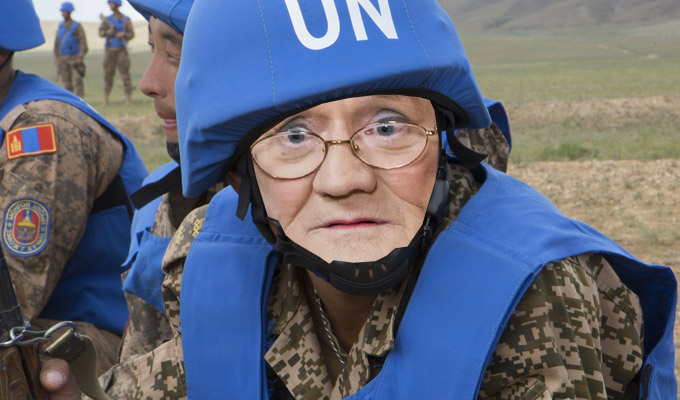 From Mrs Brown's Boys to the Arab-Israeli conflict
As the creator of Mrs Brown's Boys, he is not known for the most subtle of comic touches. But Brendan O'Carroll is about to incorporate one of the most sensitive geopolitical issues of our times in his new comedy.
The comedian has revealed that he is piloting a sitcom called The Lebanese Outpost, set on the border between Lebanon and Israel, for BBC One.
The so-called blue line, established in 2000, is patrolled by United Nations peacekeepers. It was set as a border after Israeli forces withdrew from areas of Southern Lebanon they had invaded in operation against the PLO during the 1970s.
O'Carroll told Hollywood website Deadline about the project as the Christmas episodes of Mrs Brown's Boys landed on the US version of streaming service Britbox.
Explaining why he was not making another full series based around his Irish mammy, the comic said: 'I'm doing a pilot at the moment of another thing that I'm doing called Lebanese Outpost and there's a couple of projects that I'm working on. In order to go back and do a series [of Mrs. Brown's Boys], I'd have to drop those.'
The existence of The Lebanese Outpost was first revealed in 2018, when it was reported that many of the regular Mrs Brown's cast – which includes O'Carroll's wife Jennifer Gibney and his children Danny, Fiona and Eric – would star in the new project. But this is the first time it has been confirmed that a pilot episode is in the pipeline.
In the latest interview, O'Carroll also admitted that the main reason for making Mrs Brown's Boys on TV was to promote his live tours.
He told Deadline: 'Our real income comes from touring. In order to keep it in the public conscious, the two Christmas specials really serve that purpose.'
• Our mock-up picture shows how Agnes Brown might look as a UN peacekeeper
Published: 15 Jan 2020
What do you think?