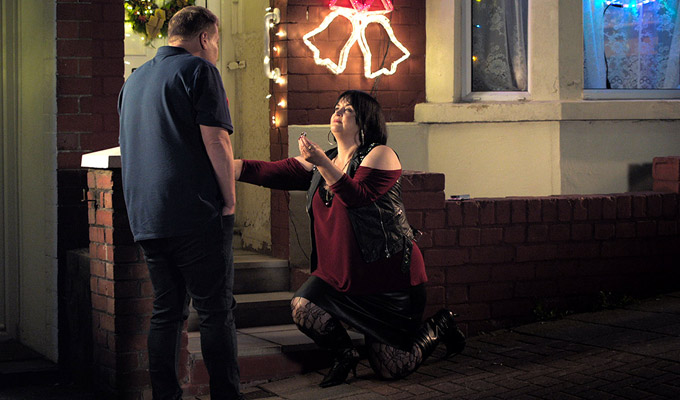 Gavin & Stacey smashes the Christmas Day ratings
An incredible 11.48million viewers tuned in for the return of Gavin and Stacey last night.
Not only was it the most-watched show on the day by a substantial margin, it was the biggest TV audience for any Christmas Day show since 2008.
The special – the first new episode of the sitcom in a decade – peaked at 12.3million, averaging the 11.48million over the the hour it was on air from 9,30pm.
This made it the most-watched Christmas Day show since the BBC's Wallace & Gromit: A Matter of Loaf and Death peaked with 14.4 million in 2008.
The audience was also almost one and a half times larger than then next most-viewed show yesterday, The Queen's Christmas Message, which attracted 7.85million.
That was followed by the festive episodes of Strictly Come Dancing, with 5.49million; EastEnders, 5.47million; Michael McIntyre's Big Show, 5.25 million; Call The Midwife, 5.23 million; Mrs Brown's Boys 4.63 million . All these shows are on BBC One.
Mrs Brown's Boys audience was close to last year's 4.7million, but more than two million down on the 7.6million that made it the biggest show of Christmas 2017.
Gavin and Stacey's previously most-watched episode was its New Year's Day 2010 finale, with 11.6million viewers.
The special ended on a cliffhanger, with Ruth Jones's character Nessa proposing to James Corden's Smithy, the father of her 11-year-old child 'Neil the baby'.
Viewers took to Twitter in their droves to ask for another series so they could find out what happens next.
Jones has not ruled out any further episodes, even though the demands of Corden's US talk show makes that difficult, since they write the show together.
She told The Sun today: 'Obviously with the way it ends, there is room for more. It's a shame we didn't have more time when we were writing so we could have written more, then have it all ready to go.'
Published: 26 Dec 2019
What do you think?